Save The Marriage System is a relationship-saving online program designed to help people overcome and repair all types of marital problems and reignite the flame that once brought them together. Studies show that approximately 69% of marital problems never get resolved. And when issues don't get addressed, both big and small, they build up and eventually create a mountainous collection of negative experiences and emotions. What's worse is that these unaddressed issues can lead to divorce. However, sometimes you just don't know how to overcome the problems you're facing in your relationship or marriage. Perhaps you've already tried but felt like it was a one-way street. You may have even considered marriage counselling but backed out when you discovered that the average cost per session is around $200. Or maybe your partner doesn't believe in counselling and you feel like you're at your wits end. Save The Marriage System offers you an affordable, at-home option for overcoming the problems you're facing in your marriage. It provides you with effective, modern methods and techniques, professional advice and perspective, activities, checklists and so much more, so you can work through, repair and overcome any problems and crises.

What is the Save The Marriage System?
While there's no denying that marriage counselling can be an effective solution, it's often not an affordable one with the average cost ranging upwards of $200. And as you likely already know, adding additional stress (especially financial stress) can be detrimental to your relationship.
Save The Marriage System is an online program designed to help couples overcome any problems they've experienced or are currently experiencing in their marriage. It's a comprehensive program created by marriage counsellor, professional relationship coach and marriage expert, Dr. Lee H. Baucom. It's designed to help couples navigate the root cause of their issues, so they can overcome them in a healthy manner and in a way that also re-establishes trust, companionship and love.
But how? Here's a sneak peek at the breakdown:
Identify the crisis (cause) of the failing marriage
Learn ways to save your marriage based on the crisis
Understand the inner workings of a successful marriage
Learn how to build a happy marriage
Learn the factors that affect marriages
Discover step-by-step methods for rebuilding your marriage
With this system, you receive specific advice and guidance for overcoming a vast array of situations, problems and crises you may be experiencing or still holding onto. It guides you through the process in a gentle, supportive way while also providing you with professional advice, perspective and techniques you can use right at home. This includes fun activities, checklists, proven techniques, and so much more. I'll delve into the details in just a moment but for now, here's a quick look at what the program comes with:
The Main Manual
Top 5 Mistakes Report
Quick Start Guide
Down-N-Dirty Guide
Dealing with Anger and Resentment Report
In addition to this, Save The Marriage System also provides you with a variety of bonus items for absolutely free that can be used to complement the things you've learned from the main system. These bonuses are:
Free Bonus #1: Mid-Life Marriage Crisis Audio
Free Bonus #2: Recovering From an Affair Audio
Free Bonus #3: 5 Rules for Fair Fighting Report
Free Bonus #4: Change of Heart
Free Bonus #5: Free Coaching Session
The entire program is digital, so you receive instant access and can start working towards repairing your marriage as early as today. You don't have to wait or pay for shipping, which also saves you the awkwardness of having a marriage counselling package arriving on your doorstep for all of your neighbours to see. To begin, you simply download the materials onto your smartphone, tablet, laptop or desktop computer. This allows easy, convenient access to the program whenever you need it, no matter where you are. On vacation? Out to dinner? Commuting to work? As long as you have your tech device, the program and all of the advice is readily available to you.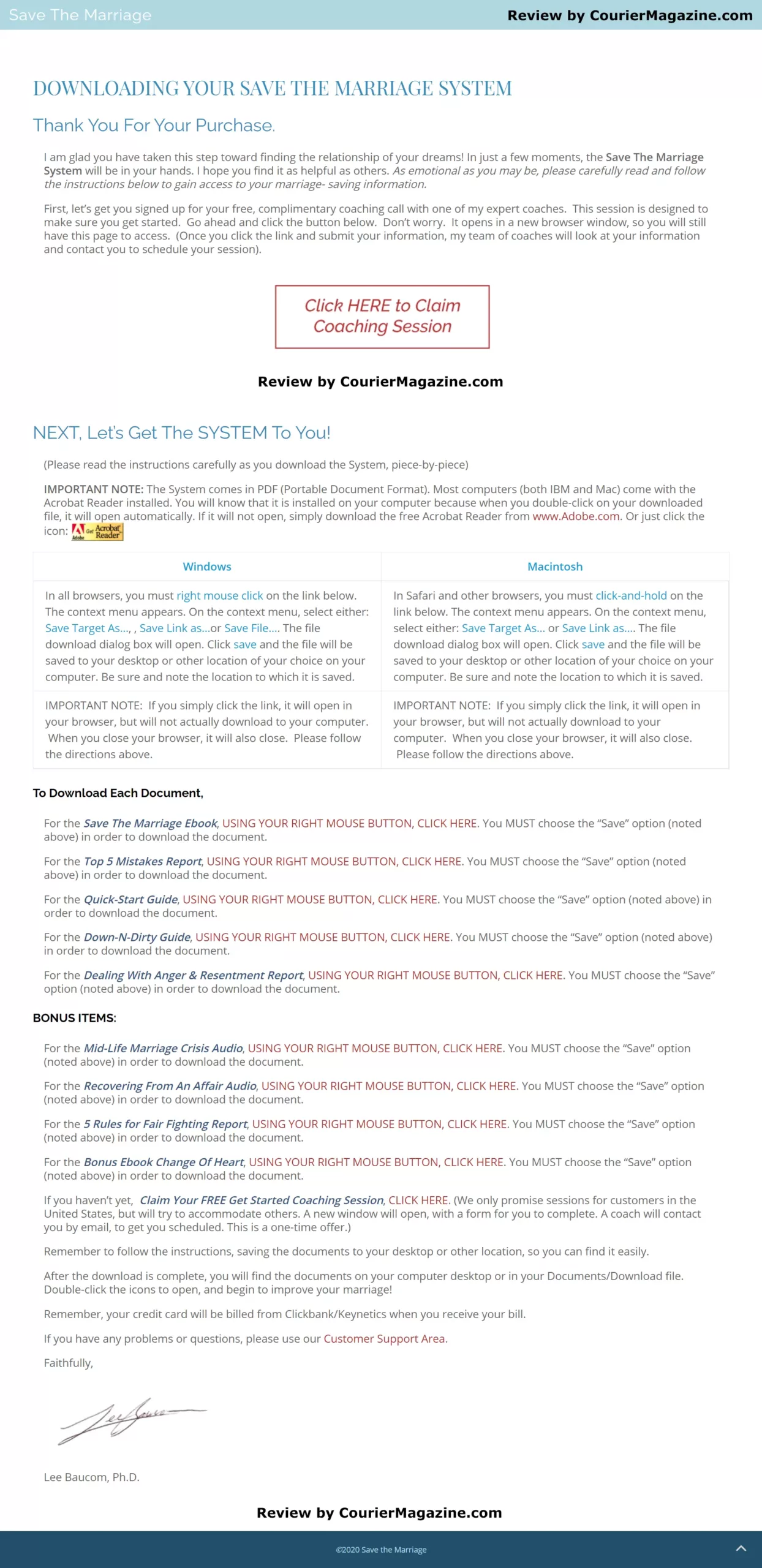 In addition to being created by a professional marriage counsellor, Save The Marriage System is also backed by a 60 Day Money Back Guarantee. So, even if you feel like your marriage is beyond the point of repair or are certain your unique situation won't be addressed in this program, you have nothing to lose by trying it out.
Who Created the Save The Marriage System?
The author of Save The Marriage System is Dr. Lee H. Baucom, Ph.D., a marriage counsellor, expert relationship coach and marriage expert. Dr. Lee has earned two master's degrees and a Ph.D. and has specialized in marriages for over 22 years.
Quick Overview of Save The Marriage System
Save The Marriage System is a powerful program that brings marriage counselling to you, and for a fraction of the price. It's infused with professional coaching, counselling and techniques that teach you how to overcome any problems you're facing in your marriage and how to effectively restore the marriage and reignite the flame.
It's designed to help you break down the relationship barriers, so you can effectively identify and understand the root cause of the issues in your marriage, so you can begin repairing them. And it guides you along the way, complete with simple step-by-step instructions, professional counselling, simple methods, detailed checklists, therapeutic activities, and so much more.
As promised, here's a more detailed look at what you can expect:
Why Traditional Couple Therapy Fails

The Faulty Assumption
An Example
The Doomed Idea
If Not Couple Therapy, Then What?

Moving From You and Me to We

Controlled/Controlling
Under/Over functioning
Power Struggles
Your Turn (Check List)
The Physics of Relating
Your Turn (Checklist)

Recipe of a Successful Marriage

Accurate Perception
Clear Communication
Right Action
The Interplay
Pulling It Together
Your Turn (Checklist)
Exercise: Me, You, We

Finding The North Star of Your Relationship

False North Stars
Finding a True North Star
Your Turn (Checklist)

3 Simple Secrets to a Successful Marriage

Secret #1: Giving Up on Arguing
Secret #2: Focus on the Complementarity
Secret #3: Make Decisions Based on What Is Good For The Relationship

Create an Upward Cycle

Shifting Momentum
An Instant Shift
Your Turn (Checklist)

Don't Ask Yourself Whether You Are Still In Love

Why Not Emotions?
So, What Should I Do?
Your Turn (Checklist)
When the Emotions Are Missing
Reconnecting With The Emotions
Your Turn (Checklist)

Chapter 8: When Emotions Are Amiss

Intimacy and Abandonment
Between The Fears
Dealing with The Mix
Understanding Anger
Your Turn (Checklist)

We All Have a Paradigm

So What's The Tie-In?
The Paradigm Problem
A Paradigm of People's Paradigms
Your Turn (Checklist)
Escaping the Paradigm Trap
We Are All Doing The Best We Can
We All Operate From Our Own Perspectives
Doing To You Vs. Doing For Themselves
What This Doesn't Mean

Boundaries: Where You Begin and End

Boundaries and Standards
Setting Boundaries in the Relationship
Why Boundaries Are Important For You
Boundaries and Standards Exercise
Boundaries of the Relationship

The Practices of Marriage

Practice "Benefit Of The Doubt" Thinking
Practice a Sense of Gratitude
Practice Continual Forgiveness

The Path to Intimacy

Stage One: Pseudo-Intimacy
Stage Two: Chaos
Stage Three: Emptiness
Stage Four: Intimacy

High Mood Relating
Living a Relationship In The Present
Sex Is About We

The Reality of Sexual Issues in Marriage
The Energy of Sexuality
A Different Approach

Money, Power and We

Freedom vs. Security
The Role of Money in a Couple's Life
The Alternative View
Two Keys to a New Perspective
Exercise: Your Money Autobiography

Don't Just Grow; Evolve

The Current View of Relationships
A Paradigm View of Relationships

Where Do I Go From Here?
Relationship Coaching
Teleclasses
Books and Resources

Our Opinion
Advantages of the Program
Unlike other programs, this one provides you with a step-by-step process for identifying, understanding and navigating through problems so you can repair your relationship starting at the root cause. The process is fairly simple, as you receive step-by-step guidance and activities along the way and the digital version allows you to use the program in private, at home, whenever you want.
You can even try it out risk-free for 60 days with the Money Back Guarantee, so if you think your relationship is worth a shot, you have nothing to lose by giving this program a try.
Disadvantages of the Program
The only thing I would recommend is offering the program in an audio format as well, so you can plug in some headphones and learn the process on-the-go when you're driving or stuck in traffic.
Conclusion
If you're in a place where you feel like your relationship or marriage is so far gone that you need to see a professional to have even the slightest glimmer of hope but can't afford traditional counselling, Save The Marriage System is a great option. It can be used to help you overcome all types of problems – big and small, including crises that have left you feeling like things will never be the same again. It can be used on your own or with your partner, and you can do so risk-free with the 60 Day Money Back Guarantee.

FAQs
Is there a hardcopy available?
The program is digital and can be downloaded right onto your personal tech devices, such as your smartphone, tablet, laptop or desktop computer. Alternatively, if you would prefer a physical copy, you can take the downloaded version and have it printed out for you at a print shop or do it yourself at home.
Does the program require both partners to use it in order to work?
One of the great things about the program is that it can work even if you're the only one currently trying to repair the relationship. It also gives you details on how to make this happen.
Is the author of the program credible?
Yes, Dr. Lee H. Baucom has worked in marriage therapy for over 22 years.
Is there a discount available?
There are no discounts available for the program. If this were to change, you would find this on the author's official website.
What if I have a question or issue?
You can contact the author on their contact page if you have any questions or issues. Alternatively, you can also leave a message below and we will do our best to help.