Feminine Enchantment is a powerful dating and relationship program designed exclusively for women who are looking to perfect their approach to get the guy and relationship they want. It's for the women who have been on what-seems-like a never-ending session of "The Heartbreak Treadmill". We've all been there. Dating is tough; keeping a relationship strong and healthy is even harder. Oftentimes, it seems like you haven't done anything wrong or suddenly, the totally-into-you guy just ups and ghosts you. The struggle is real and while we, as women, may not see the reasoning behind men disappearing or running for the hills, there is usually a good reason (in their mind). For example, according to studies, the common complaints men have about women are that women are always looking too far ahead into the future; they want men to change; they use their emotions as weapons, and they fixate on what their man is thinking. And unlike women, men don't tend to be as patient in the dating world and the second they see something that irritates them, they bail. But this isn't to shame you. Instead, this is the type of information that can empower you as a woman and that's what Feminine Enchantment is all about. With this program, you learn how to match the energy of the person and relationship you want to get just that. It's a simple approach that teaches women the secrets to capturing a high-quality man and creating a passionate, fulfilling relationship.

What is Feminine Enchantment?
I'll be the first to admit that most dating and relationship programs are cliché, especially when they're geared towards women. They make us feel like we do something wrong and that men are never the problem. However, such is not the case with this program.
Feminine Enchantment is an online program designed to empower women to go after and get what they want in a relationship by providing them with powerful information that changes the game. It's a comprehensive program created exclusively for the ladies who keep finding themselves in the never-ending cycle of unsuccessful dates and relationships. Designed to work for any woman and on any man, this program offers you the inside scoop on how balancing feminine and masculine energies can drastically enhance your relationships.
With Feminine Enhancement, you learn all about feminine and masculine energy and how it plays a significant role in how dates and relationships go. The program provides with you a detailed description of what this means but as a crash course, everyone has both feminine and masculine energies. Feminine energy pertains to living in the moment, feeling, receiving and experiencing, whereas masculine energy pertains to taking action, thinking and solving problems. Most people have more of one or the other; they either have more feminine or masculine energy. Yes, even you. Take a moment to think about that for a second and you'll see what I mean.
The secret is that these energies act as magnets. If you have more feminine energy and the guy you're going on a date with does as well, you'll want to balance this with some masculine energy and vice versa. Otherwise, two of the same act like repellants.
With Feminine Enchantment, you learn how to use these energies to get what you want. It teaches you 10 powerful techniques that can trigger what you want from the other person and to create a balance that totally captivates them.
I'll break down the process in just a moment, but rest be assured, the program is 100% natural and ethical. No head games here! Everything is digital, so you receive instant access as soon as you purchase and can download the materials right onto your tech devices. The program is also backed by a 60 Day Money Back Guarantee, so you can try it out risk-free for two months and see how creating that balance in energy can work magic on any guy.
Who Created Feminine Enchantment?
The author of Feminine Enchantment is a certified life and relationship coach and Master Coach Teacher, Helena Hart. Helena has her master's degree in Psychology and focuses her career on helping women understand and balance feminine and masculine energies to create successful, passionate relationships.
Quick Overview of Feminine Enchantment
Feminine Enchantment is a powerful female-empowerment program that shows you how to use feminine and masculine energies to attract the high-quality man you want. The program is super simple, with a focus on using 10 triggers when dating to create a captivating, yin-yang effect. Each trigger as seen below comes with a detailed explanation, scenarios and examples, as well as easy steps for implementing the trigger into your specific situation.
Here's a more detailed look:
Introduction
How it Works
The Gravity Trigger
The Priority Trigger
The Vulnerability Trigger
The Fascination Trigger
The Pursue Me Trigger
The Happiness Trigger
The Fluffy Pillow Trigger
The Love Me Like You Should Trigger
The Connection Trigger
The Love Trigger
Common Mistakes
What's Next?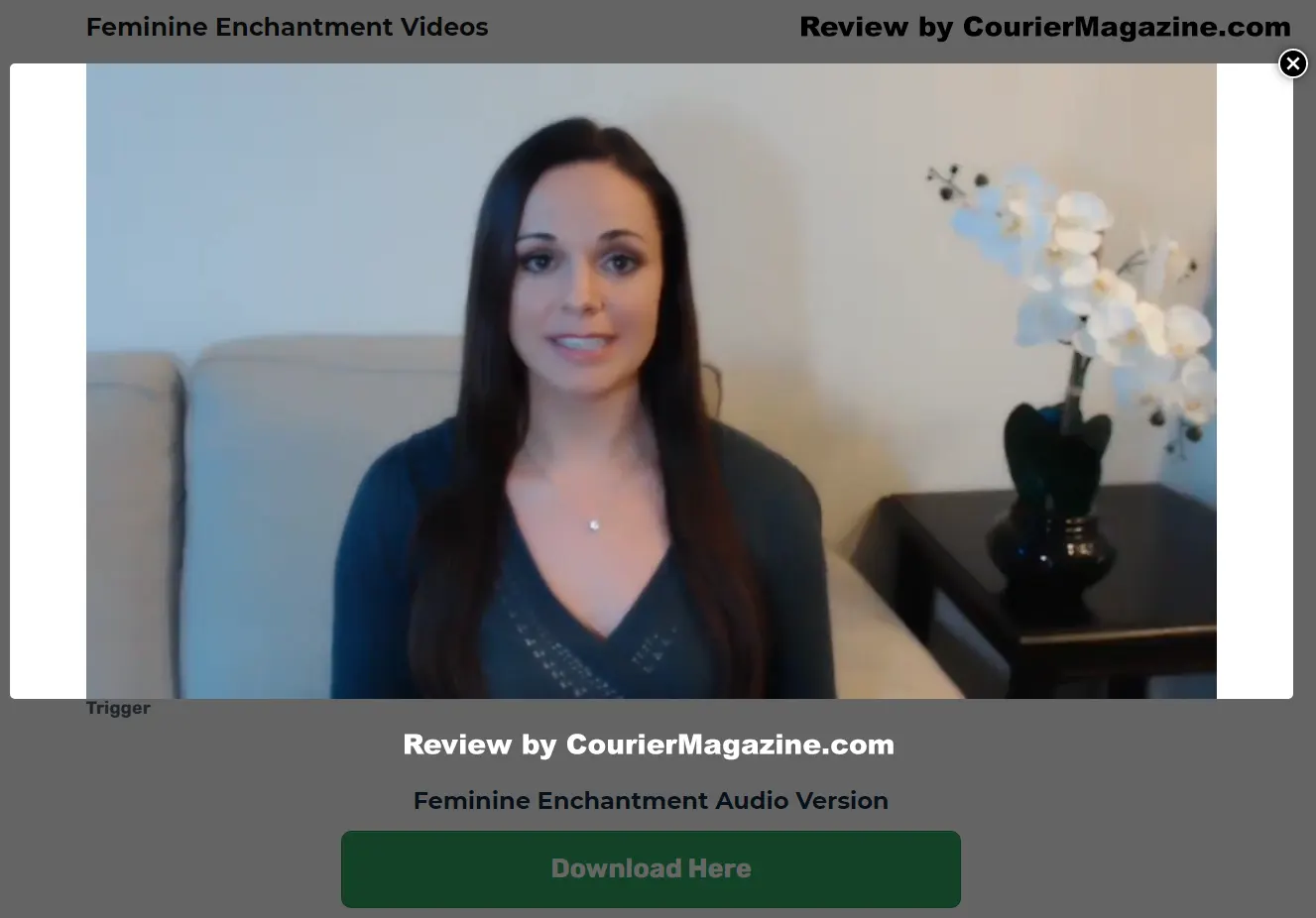 Our Opinion
Advantages of the Program
The first advantage that really stood out to me about the program is how it approaches the whole dating scenario. So many dating and relationship programs and professionals shame women into feeling like they're doing something wrong. Many also encourage the use of manipulative head games to get what you want. I was pleasantly surprised that neither of these are the case with Feminine Enchantment. Instead, the program is empowering and ethical. There are zero unethical and unhealthy techniques used, and the emphasis is on embracing your full authentic-self to attract the guy you want. It's super female-friendly.
Another thing I really liked is how simple and precise it is. You receive instant access as soon as you purchase and the program is ready to dive into your dating game when you are. The digital version is really convenient, as it allows you to access the material whenever and wherever your love life takes you. This is particularly beneficial when you're out and about and see a guy you'd like to approach. The help you need is right there on your devices. And since it is digital, you don't have to carry around a book with you that basically tells everyone you need help in the dating department. The digital download is discrete and no one ever has to know that you have a helpful little guide on your device. The digital version also allows you to choose how you would like to follow along with the program, whether via text, audio or video.
Another feature that is certainly worth mentioning as well as is the money back guarantee. Not only was the program created by a certified life and relationship coach and Master Coach Teacher, it's also backed with a 60 Day Money Back Guarantee. This gives you two months to learn and implement the techniques and see how they can transform your love life. With all of the scenarios and examples provided, you can narrow in on the best approach for you, the situation you're in and the energy of the guy you want to captivate.
Disadvantage of the Program
As someone who is fairly picky, I am quite shocked to proudly say that I don't have any disadvantages to mention. Feminine Enchantment really ticks off all of the boxes and it approaches dating from a modern perspective, which so many other programs overlook.
One thing I would mention is that, although you can use the program in text, video or audio, having the option to get a physical hardcopy would be a neat feature as well. Sure, it doesn't come with all the convenience and instant access as the digital copy, but some people may prefer having a physical book to hold onto.
Conclusion
Feminine Enchantment is a simple, yet powerful program designed exclusively for women who are looking to learn new ways to land a high-quality man. It's 100% natural and ethical, with a focus on aligning feminine and masculine energies to create a yin-yang effect that is imperative to successful relationships. The program can be used by any woman, whether you're single and looking for a new man or wanting to reignite the flame within your current or old relationship.

FAQs
Is there a physical copy of the program available?
No, the program is entirely digital. You can download the material onto your personal tech device or access it online. It can be downloaded in a PDF or as an audiobook, giving you full freedom with how you'd like to work your way through it. Alternatively, if you really want a physical version, you can always download the PDF file and print it off at home or bring the file to a print shop to have it printed for you.
Do I have to be online to use the program?
As mentioned, the program is made up mainly of videos, aside from the eBook (PDF) and audiobooks (MP3s). The videos do have to be accessed online, which does require internet access. Alternatively, you could use an internet download manager to download them right onto your tech devices. Otherwise, you can access the videos online and then, use the eBook and audiobooks when you're offline as they do not require internet access if you download them.
How do I know if I'm using the techniques correctly?
All of the techniques used in this program come with detailed step-by-step instructions and descriptions. You learn what the technique is all about and how it can be used to improve your dating and relationships. You also learn why the technique works and you receive different scenarios and examples on how and when to execute it.
What if I need more guidance or help?
Upon purchase, you receive access to a private Facebook community group that is exclusive to members. You can post your questions, ask for advice or connect with other women using the program.
What if I have a question or issue regarding the program?
You can always send a message to the author of the program from the contact page on their official website. You can also leave us a message below and we will do our best to help you.