The Devotion System is an online program that serves as every woman's secret weapon to learning how to read and understand men, so they can decode what they're really looking for and what they find irresistible. And once you have that knowledge, you can do what you want with it. Literally, the dating pool is in your hands, ladies. But let's make one thing clear: this program isn't about changing who you are or what you want to fit that of a man's. It's about being able to read between the lines and understand "guy-code" so you don't waste time on men whose desires, goals and values don't align with yours. On the other hand, learning "the language" of men will also help you narrow in on the high-quality man and fulfilling relationship you want. It starts with you, and this program is here to help.
With The Devotion System, you're provided with expert dating guidance, coaching and advice that teaches you all about the male psyche and human behavior, and how to use it to get what you want – and deserve.

What is The Devotion System?
When it comes to dating, especially in this complicated digital age of right-swipes and dating apps, professional advice can make a huge difference in landing the guy and relationship you want.
The Devotion System is an online program designed specifically for women who are tired of failed relationships and horrible first dates, and are ready to learn expert dating technique and advice that can transform their love life. It's a comprehensive program that aims to provide women with the "inner scoop" on what might be hindering their journey to love, so they can learn how to overcome those obstacles and land the high-quality guy and relationship they're looking for.
The Devotion System is deeply rooted in the importance of having a good understanding of the male psyche and how men think, feel, act, etc. This allows you to have valuable insight into why they behave the way they do—whether they're pursuing you passionately or seemingly running away, even after all of your dates seemed incredible dates. By understanding the male psyche, you can take the guessing game out of dating and relationships, and know exactly what's going on and most importantly, how to reel 'em in when you've found a man worth catching.
The program is super empowering as it provides you with the knowledge and tools needed to overcome any barriers standing between you and finding love. It isn't just about understanding men; the program also helps you let go of past pain and heartache while developing healthy new habits for the future. For example, the entire process consists of three easy-to-follow parts, which are:
Part 1: Letting go
Part 2: Understanding men
Part 3: Putting it into action
Throughout these parts, you're provided with a plethora of expert dating and relationship advice, time-tested dating techniques for attracting the man and relationship you want.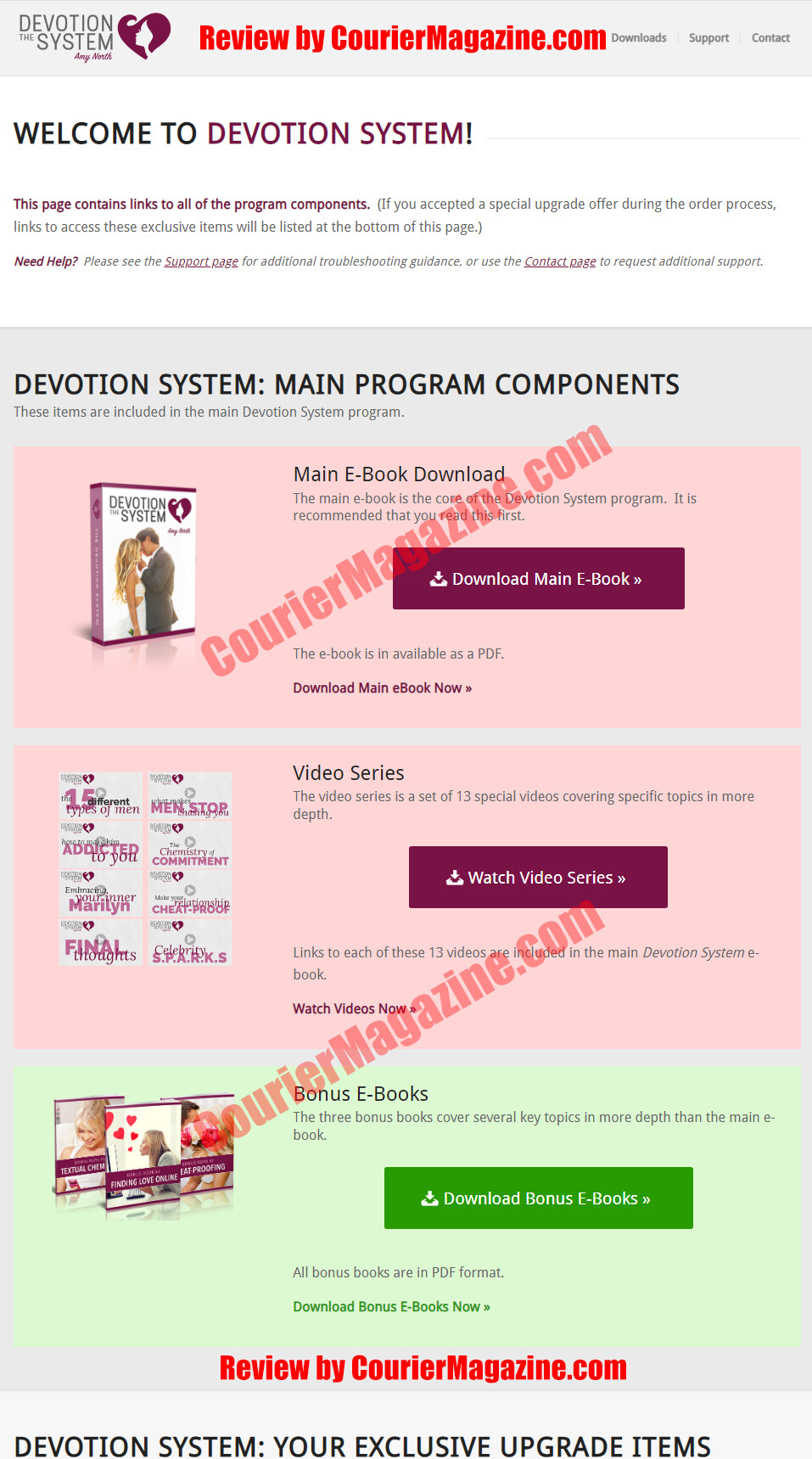 The best part: everything is digital, so y you don't even have to risk getting an embarrassing package in the mail. Instead, you receive instant access as soon as you purchase and can download the material onto your smartphone, tablet, laptop or desktop computer. And on top of being created by a leading dating and relationship coach, the program is also backed by a 60 Day Money Back Guarantee. So, you have nothing to lose ladies and can give it at ry for two months and see how it works for you.
Who Created The Program?
Amy North is the wonder-woman behind The Devotion System: Not only is she an author, but Amy is also a professional dating and relationship coach. Her unique approach helps women become the best versions of themselves and discover exactly what it is that they desire in a relationship. She has helped transform the lives of thousands of women.
Amy also runs a popular Youtube channel that receives over 10 million views and 200,000 subscribers, making her a top creator on the platform and in her field.
Overview of The Program
The Devotion System is the ultimate program for learning how to transform your habits and dating skills to attract the man and relationship you've been dreaming of. This comprehensive program aims to provide you with all of the knowledge and valuable techniques needed to overcome any obstacles that stand in the way of building a strong and healthy relationship. The process is separated into three parts, which are:
Part one: Letting go and moving on. This section guides you in releasing past baggage and embracing a fresh start.
Part two: The inside scoop on men. Discover the secrets of the male mind and gain a deeper understanding of what makes them tick.
Part three: Putting it all together. Learn how to combine your newfound knowledge and skills to create the love life you truly desire.
Within each part, you receive an abundance of professional advice, perspective, and methods, all grounded in various aspects of human behavior. You also receive 13 insightful videos that go even deeper into the topics covered, helping you apply what you've learned to your own dating experiences and relationships.

Let's take a closer look at what you can expect from the program as a whole:
Part 1: Letting Go and Moving On
The P.A.S.S. System
Become a Dream Woman
S.P.A.R.K. Breakdown
Get What You Want in a Relationship
The Love Buzz Mindset
What Stands Between You and Mr. Right
Six Steps to Embracing Your Inner Marilyn
This section is all about helping you become the best version of yourself, so you can make way for a healthy and fulfilling relationship with both yourself and others. It's all about leaving behind any lingering heartbreaks or insecurities from past relationships that might be hindering your current dating life. And as scary as that may seem, this part of the program provides you with expert advice and techniques to guide you through the process of f letting go and releasing any emotional baggage.
Part 2: Men 101
Myths About Men
How Men Work
What Makes Men Chase You
What Pushes Him Away
How to Hook and Seduce Him
The Devotion Sequence
The 15 Types of Men
Men To Avoid
Subconscious Signals He Sends
The second part of the program takes a deep dive into the male psyche, providing you with valuable information that will help you understand men. This section addresses all kinds of topics, including common misconceptions that women often have about men, which can lead to dating mistakes, the inner workings of male behavior and thought patterns, why men act and think the way they do, what men tend to react negatively to, the different types of men you may encounter while dating, and so much more. All of this information is designed to give you the inside scoop so you can approach dating scenarios with confidence and the ability to adapt to the unique qualities and preferences of different men. And of course, it comes with plenty of techniques that guide you along the way.
Part 3: Stages of Love
What Kind of Woman Are You?
The Monogamy Message
The Phone Phrenzy Technique
How To Make Him Addicted To You
The Date
When To Sleep With Him
His Hot Spots
Tips To Turn Him On
Ways TO Make Him Happily Monogamous
Preventing Infidelity
What To Do When He Pulls Away
Warning Signs
Signs That He's The One
How TO Let Him Down Gently
How to Avoid Sabotaging Your Relationship
This section is packed with additional information and powerful techniques that will help you turn your first dates into a long-lasting and fulfilling relationship. It goes beyond just making a man attracted to you and is designed to help you make a man addicted to you and keeping his attention solely on you.
You learn techniques that will help trigger the "L" word, ways to cultivate and nurture love in your relationship, the physiological components that contribute to lasting love, and much more. You also learn the other side of things since no relationship is peaches and cream. So, this part also covers topics, such as the warning signs to look out for, how to navigate common relationship mistakes, prevent infidelity, and many other expert tips and guidance that will assist you throughout the dating process and beyond.
Video Series
The Devotion System comes with 13 videos that delve deeper into the program's most important topics and methods. These videos are designed to provide you with additional techniques, tips, and strategic steps to maximize your experience (and results. Each of these videos are embedded into the main eBook, so you can easily link to them to gain some extra information about:
The P.A.S.S. System
Celebrity S.P.A.R.K.S.
Embracing Your Inner Marilyn
What Makes Men Stop Chasing You
How To Avoid Negative Communication
Texting Devotion Sequence
The 15 Different Types of Men
What Kind Of Woman Are You?
The Chemistry of Commitment
How To Make Him Addicted To You?
How to Have The Perfect First Date
Make Your Relationship Cheat-Proof
Final Thoughts
Free Bonuses
The program also offers you some extra bonuses which you get for free:
Free Bonus #1: Textual Chemistry Guide
Free Bonus #2: Cheat Proofing Guide
Free Bonus #3: Finding Love Online Guide
Our Opinion
Advantages of the Program
Author is a professional dating and relationship coach with many years of experience.
Approach is designed exclusively for women and aims to help women gain a deeper understanding on men and their behaviours.
Comes with an abundance of effective methods and techniques.
Methods come with detailed explanations, step-by-step instructions, examples and scenarios so you can easily implement the things you learn.
You learn about the different types of men and the best approach to use on each.
Program's approach is 100% natural and ethical.
The regime is put into a three-part series that comes with a written manual and a 13-video series, bonus content, and much more.
Digital access allows you to use the program right on your smartphone, tablet or computer.
You receive instant access as soon as you purchase.
Easy and convenient use of the program right at your fingertips.
Backed by a 60 Day Money Back Guarantee.
Disadvantages of the Program
The Devotion System comes in a digital format (pdf eBook and videos) which can be accessed right on your personal tech devices. However, if you wanted to receive a physical hardcopy, you could download and print the program off from home to serve as your own personal hardcopy.
Conclusion
The Devotion System is an online program designed exclusively for women who are ready to let go of old heartbreaks and insecurities and channel their best self and land the high-quality man they dream of – and deserve. It's a comprehensive program that aims to help women heal and overcome obstacles that may be hindering their dating experiences. But that's not all. It's also highly focused on gaining the knowledge needed to have a better understanding of the male psyche and male behaviours. Put these two together and you have a secret weapon for becoming your best self and finding the love and relationship you want. Everything is put together for you by an expert dating and relationship coach, complete with step-by-step techniques and methods, examples and scenarios. You also get a 60 Day Money Back so you can give it a try and see how it transforms your love life.

FAQs
How can I get a physical version?
The program is 100% digital so there is no physical version available. You can always download and print the manual off from home to serve as your own personal hardcopy.
Can the program only be accessed online?
Once you download the program onto your devices, it can be accessed without the Internet. However, the video portions do need to be accessed online.
How will I know if I am using the techniques properly?
The methods come with detailed descriptions, step-by-step instructions, examples and scenarios to ensure you know how and when to use them. So, you shouldn't have any problems. Keep in mind, you have two months to give them a try risk-free.
Does the program have any discounts?
The author has not released any discounts at this time. If this were to change, it would be announced on the official website.
Can I contact someone if I need more guidance?
The program has two options: you can use the members-exclusive support page or "Seeking Amy's Advice" page to reach out to the author and her team for any questions or concerns you may have.