PianoForAll is an online program that gives you professional piano lessons that take you from the basics all the way to playing like a pro, right from the comfort of your own home and for a fraction of the price of in-person lessons. While there's nothing wrong with traditional piano lessons, they can be quite expensive, with prices ranging from $40 to $80 per session. And several sessions are needed to truly learn how to play so the final cost can get up there. Fortunately, many things in this world are now going digital and piano lessons are just one of the things you can benefit from doing so.
PianoForAll brings all of the lessons you'll ever need to develop the skill and talent of playing the piano while also saving a significant amount of money. It comes with an incredible collection of resources, including 200 video lessons, 500 audio lessons, and 10 training modules. It can be used if you're a complete beginner who has never touched a musical instrument before or if you already have intermediate or advanced skills and want to take them to the next level. And it can all be done right at home on your electronic device.

What is PianoForAll?
Taking piano lessons has never been easier or more affordable. PianoForAll is an amazing online program that brings professional piano lessons right to your digital screen. Whether you're a complete beginner or have some musical experience, this comprehensive program has everything you need to learn, develop and hone your skill.
PianoForAll starts from the very basics, ensuring that even if you have no prior experience, you will be able to use the program. The lessons cover all of the important topics to get you started, such as different keys, notes, reading sheet music, and hand positions. As you progress through the program, and after learning the basics, you'll start playing the piano. The lessons begin with simpler songs like basic blues, which can be played with just three chords. Gradually, as you develop your skills, the lessons start to introduce more advanced techniques to keep the lessons challenging and exciting.
In total, the program comes with a collection of 200 video lessons, 500 audio lessons, and much more. All of these materials are organized into 10 training modules to ensure an easy, follow-along process. Let's take a sneak peek at what those are:
Book 1: Party Time/Play By Ear / Rhythm Piano
Book 2: Blues and Rock n' Roll
Book 3: Chord Magic
Book 4: Advanced Chords Made Easy
Book 5: Ballad Style
Book 6: Jazz Piano Made Easy Pt. 1
Book 6: Jazz Piano Made Easy Pt. 2
Book 7: Advanced Blues and Fake Stride
Book 8: Taming the Classics
Book 9: Speed Learning
Book 10: Bumper Resource Book

All of the lessons are digital, so you receive immediate access as soon as you purchase and can start your piano playing right away. You just download the 10 eBooks onto your smartphone, tablet, laptop, or desktop computer and you can use the lessons anytime, anywhere, even offline. This also comes with a 60 Day Money Back Guarantee, giving you a risk-free opportunity to try your hand at piano lessons—pardon the pun.
Who Created The Program?
Robin Hall is a professional pianist and experienced piano teacher who has devoted his career to helping others hone the beautiful skill of playing of music. Robin teaches students of all ages and aims to make his lessons easy to understand and accessible to everyone. He does so by providing "bite-size" lessons that are keep the learning experience fun and exciting. His ability to break down barriers and transform even the most challenging lessons into engaging and comprehensible experiences is what sets him apart from all of the other piano teachers out there. 
Overview of the Program
PianoForAll is a comprehensive program that provides you with over 200 self-taught lessons for mastering piano playing. The lessons are strategically organized into 10 training modules, each building upon the previous one for a gradual and progressive learning experience. For example, the first four modules lay the foundation for the entire program, providing you with essential techniques and knowledge that are essential for learning how to play the piano. The following guides take these skills and provide you with more advanced techniques and tutorials, so you can strengthen your skill and hone your talent.
Each lesson comes with detailed instructions, along with video and audio lessons, tips and advice to ensure you have all the resources you need to successfully understand, learn and implement the teachings. Many also have additional photos, diagrams, and examples to further explain the techniques in a visual way.
To give you a better idea of how the lesson plans are laid out and what they include, let's look at each of the ten modules individually:
Book 1: Party Time/Play By Ear / Rhythm Piano (83 topics)
Getting to know the keyboard
The key to playing piano instantly – CHORDS
Practice progressions
The first book serves as your ultimate beginner's guide to learning the piano! This module provides you with all the essential information you need to start playing the keys. You learn the different parts and components of a keyboard/piano, the rhythmic patterns that bring music together, and the use of chords, both major and minor. You also learn the differences between the white keys and the black keys and 12 keys that can be played at various pitches to create a beautiful melody.
Book 2: Blues and Rock n' Roll
Layout of notes for playing the Blues
Different types of keyboards
Photos of where to place your fingers
Written instructions on where to place your fingers
Book 2 covers the essentials of playing the blues on the piano, including the proper finger placement and more. Within this module, you'll learn where to position your fingers to create blues melodies, the rhythmic patterns that bring the blues to life, how to perfect left-hand rhythms and the art of playing right-hand licks.
Book 3: Chord Magic
The all chords memory trick
Diagrams of playing different songs
Inversions
Easy way to form inversions
Common mistakes
In this training module, you learn everything there is to know about chords. This includes information on the various chords, as well as useful techniques that will help you learn them. For example, you are taught a powerful tool called "the all chords memory trick." This simple yet effective trick shows you to effortlessly play major and minor chords on the piano.
Book 4: Advanced Chords Made Easy
One Magic Formula to 9, 11 and sus4 chords
Diminished chords
Right hand cluster chords
Practice progressions
In this guide, the lessons build on the chords you have already learned so you can start playing more advanced styles. You take a deeper look into the three types of chords you have mastered and learn how to incorporate these chords into more advanced styles of playing. It also comes with new techniques to support your playing and challenge you musically.
Book 5: Ballad Style
Note finder print out
Developing a basic ballad style
Different exercises for ballad style
In this training module, you receive lessons that help you refine the skills you have developed thus far. The approach focuses on using a ballad style and strives you help you get down all of the notes before getting into the actual tone, which is taught to you through a simple 6-step strategy.
Book 6: Jazz Piano Made Easy Pt. 1 & Pt. 2
Two-part series
The magic blues scale
A classic chord progression
Voicing for show tunes
In this book, you learn how to start playing the blues using just three simple chords. It teaches you the fundamentals of the blues, so you can eventually progress to more complex songs and techniques. By mastering these three chords, you will be able to play pretty much any blues song.
Book 7: Advanced Blues and Fake Stride
Instant transposer instructions + chart
Advanced blues music diagrams
Different riffs
This module teaches you how to start incorporating right-hand chords into your blues playing. You learn about the sevenths and inversions, playing off-on rhythms and additional techniques to further your piano playing.
Book 8: Taming the Classics
Getting to know the keyboard patterns
Repeats
In this module, you learn how to play more advanced songs on the piano. It builds on the foundations laid in the first module and introduces additional steps and techniques to take your skills to the next level.
Book 9: Speed Learning
Memorizing the scales and arpeggios
Practice routine in the key of C
Other tone scales
This module is all about learning how to play the piano faster. It provides you with tips and strategies you can add into your practice routine to improve your speed and dexterity on the keys. One such exercise is the 'broken chord' exercise, which focuses on adding fluidity into your chords. 
Book 10: Bumper Resource Book
Technicality of different keyboards
Features of different keyboard types
Connecting keyboards to the computer
The last and final module provides you with additional tips and advice to help you continue you on your journey as an aspiring pianist. While the information is not mandatory in order to play the piano, it comes with some pretty interesting knowledge for those who wish to delve deeper into the subject. For example, you learn how to connect your keyboards to a computer, the different types of keyboards available, what to look for when selecting or upgrading your instrument and so on and so forth.
The Verdict
Advantages of the Program
Provides you with comprehensive piano lessons you can do right from the comfort of your own home.
Comes with easy-to-follow self-taught lessons that are strategically organized into 10 modules.
Allows you to learn how to play the piano at your own pace.
The lessons can be used with keyboard or a piano.
Appropriate for all ages.
The lesson plans come in audio, video and written format (200 video lessons, 500 audio lessons, and 10 training modules).
Covers everything from basic to intermediate and advanced levels.
Lessons are supported with step-by-step instructions, visuals, diagrams, audios, and videos.
Digital access allows you to use the PianoForAll right on your electronics.
Taught by a professional pianist and piano teacher.
Supported by a 60 Day Money Back Guarantee.
Disadvantages of the Program
Since PianoForAll is a digital program, you may feel like you miss out on the social aspect of attending in-person sessions. However, the author makes the lessons really fun and exciting, and the digital self-taught approach allows you to work at your own pace. That's also not to forget mentioning the major savings you get from skipping out on in-person lessons and opting for digital ones instead.
Conclusion
PianoForAll is the ultimate program for learning how to play the piano at your own pace, in the comfort of your own home and without having to spend a fortune! Whether you're a complete beginner or have some previous training, this program is designed to help you learn, develop and refine your skills. It's appropriate for people of all ages and the lessons cater to learners of all levels, guiding you through beginner, intermediate, and advanced lessons for a smooth and gradual learning experience. The lessons also come in various formats – video, audio, and written – to ensure every type of learner has an approach that works best for them. And not only is the program created by a professional piano teacher, it also comes with a 60 Day Money Back Guarantee. You just can't go wrong with those two things.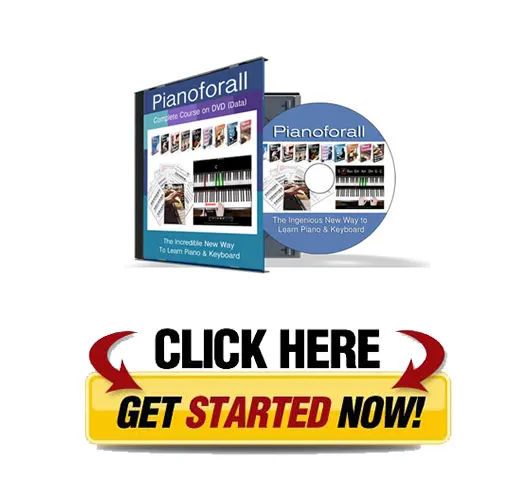 FAQs
How are the lessons taught?
The lessons come in written, audio and video files all of which are put together in the 10 training modules. The program provides you with a free software to download, so you can easily click and play.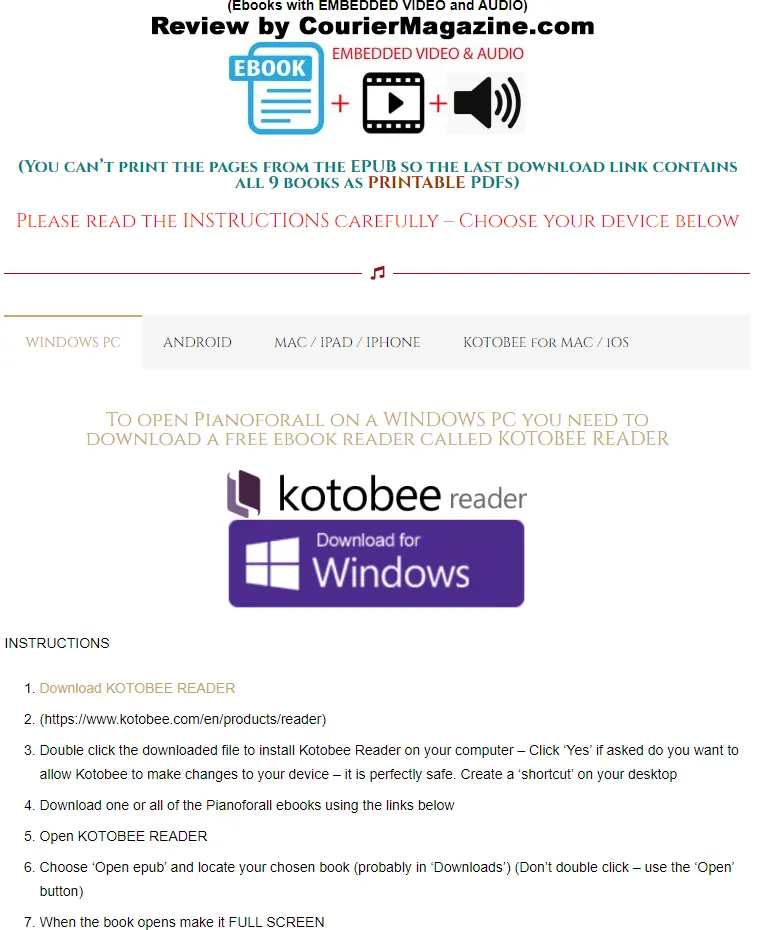 Will I be able to print off the lessons?
Absolutely. While the modules are digital eBooks that have videos and sounds embedded into them, you are provided with a print-friendly version. You will still need to access the digital files to play the videos and sounds.
Can the lessons be used offline?
Yup. As long as you have downloaded the training modules, you will be able to use them anytime, anywhere.
Are the lessons appropriate for all ages?
Yes. The author has carefully designed each lesson to be appropriate for anyone to use – young and old. However, children may need a bit more guidance depending on their age and reading level.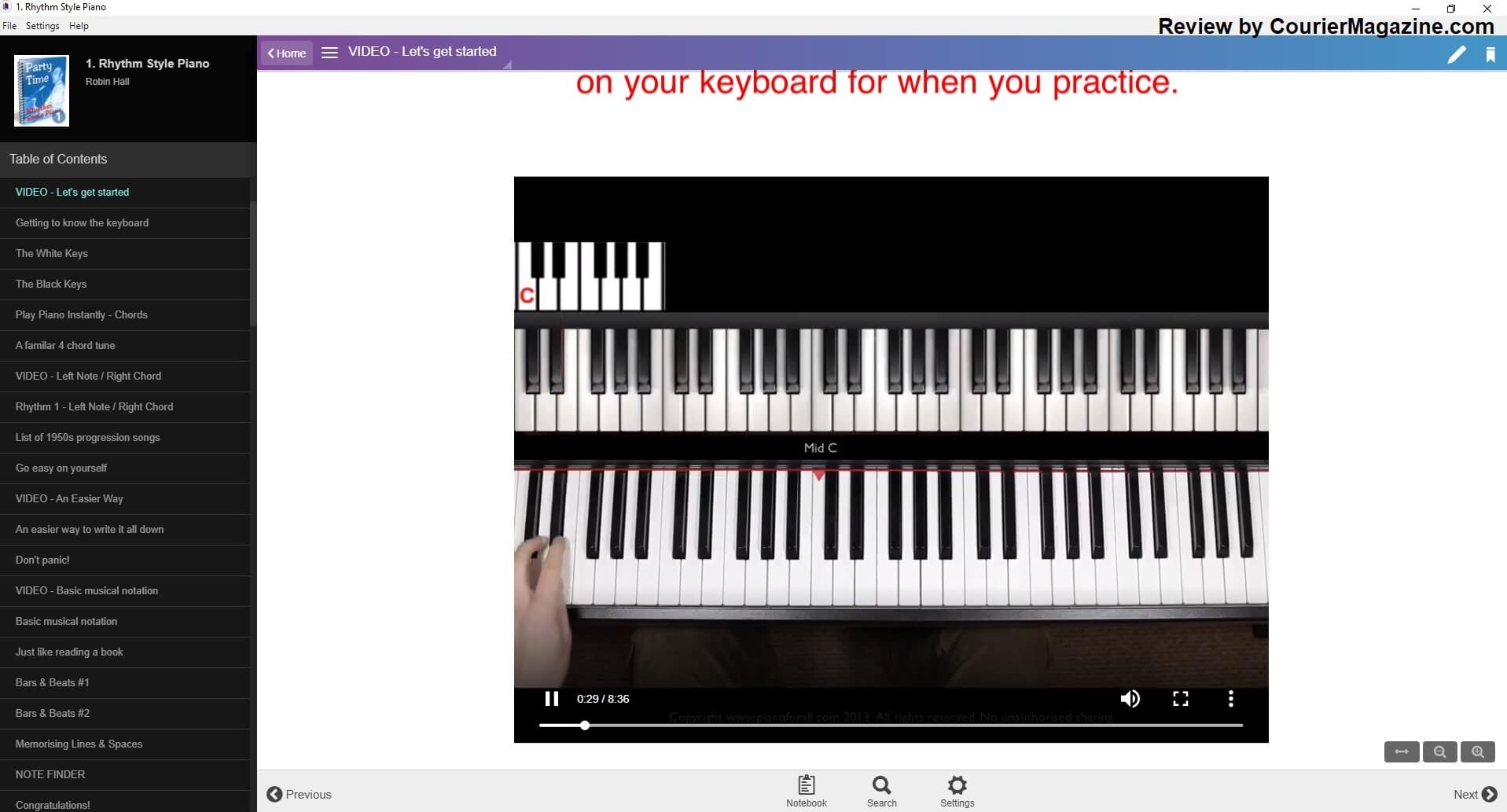 Is there a coupon code available?
The author already offers the program at a discounted price, so there are no additional coupon codes available at this time.