PianoForAll is an amazing online program designed to help anyone fulfill or further their dreams of learning how to play the piano. Playing an instrument is quickly becoming a lost talent. Studies estimate that only 20.6% of Americans play a musical instrument. Of those, only 25% play the piano. Although these statistics are heartbreaking, it makes sense. Piano lessons are fairly pricy, with the average cost per lesson ranging between $40 to $60. The price increases depending on the student's grade/level, the instructor's experience and the type of piano services they offer. It's a big price to pay just to develop a talent and that's not even factoring in the commitment, dedication, and travel time. The good news is that PianoForAll brings professional piano lessons right to you, in digital form. It's covers everything from basic training to playing like a pro, and it can all be done right at home. No prior experience needed and no hefty, recurring bill to pay. You also don't have to deal with traffic getting to-and-from classes after school; before dinner in the middle of rush hour, which is always a bonus.

What is PianoForAll?
There's something so magical about being able to play an instrument. Unfortunately, only 20% of Americans can play an instrument and only 25% of those can play the piano. Well, that's about to change because this program brings the piano lessons to you, digitally and for a fraction of the price traditional lessons cost.
PianoForAll is an online program that makes it easy for anyone and everyone to learn how to play the piano. Over 190,000 students across the world have used this program to start their piano journey or to further their piano skills. It is one of the most popular online music lesson programs on the market, with detailed step-by-step training series that guide you along the way.
With this program, you can take any piano lesson you want – or all of them. It's a comprehensive program that covers everything from basic lessons to playing advanced classics. You receive 200 video, 500 audio lesson and 10 training manuals that teach you the steps from start to finish. If you're a beginner, you can start at the basic lessons or if you already have experience, you can start in the middle or wherever you find best suits your skill level. There are lessons for absolutely everything you can imagine or at the very least, that you would receive from traditional in-person lessons. This includes learning and understanding the keys, playing simple songs, reading music and so much more.
PianoForAll is designed for anyone to use it. Whether you have never touched a piano before or have been playing for years. No prior experience is needed, as the lessons act as the teacher and guide you through the process. The variety of video, written and audio lessons also make it easy to understand the lessons and implement what you've learned. Each lesson is also systematically laid out for you, so you can confidently and gradually hone your skill. For example, the first training manual provides the foundation for the second, and so on and so forth. I'll delve into the different sections in just a moment, but for now, here's a sneak peek at the 10 training manuals:
Book 1: Party Time/Play By Ear / Rhythm Piano
Book 2: Blues and Rock n' Roll
Book 3: Chord Magic
Book 4: Advanced Chords Made Easy
Book 5: Ballad Style
Book 6: Jazz Piano Made Easy Pt. 1
Book 6: Jazz Piano Made Easy Pt. 2
Book 7: Advanced Blues and Fake Stride
Book 8: Taming the Classics
Book 9: Speed Learning
Book 10: Bumper Resource Book
Now, I know you're excited. Learning how to play an instrument has never been so affordable and accessible. So, you'll be happy to know that you can get started right away as you receive immediate access as soon as you purchase. Everything is digital, so you can access the lessons online or download the content onto your smartphone, tablet, laptop or desktop computer. This makes it easy to complete the lessons wherever you are, whether it's on a commute to work or on vacation with the family. Want to show off your skills at a friend's house where there is a piano? Pull up the program on your smartphone. Waiting in a long line? Go over the training on your tablet. As long as you have your tech device, the training is readily available at your fingertips. Pardon the pun.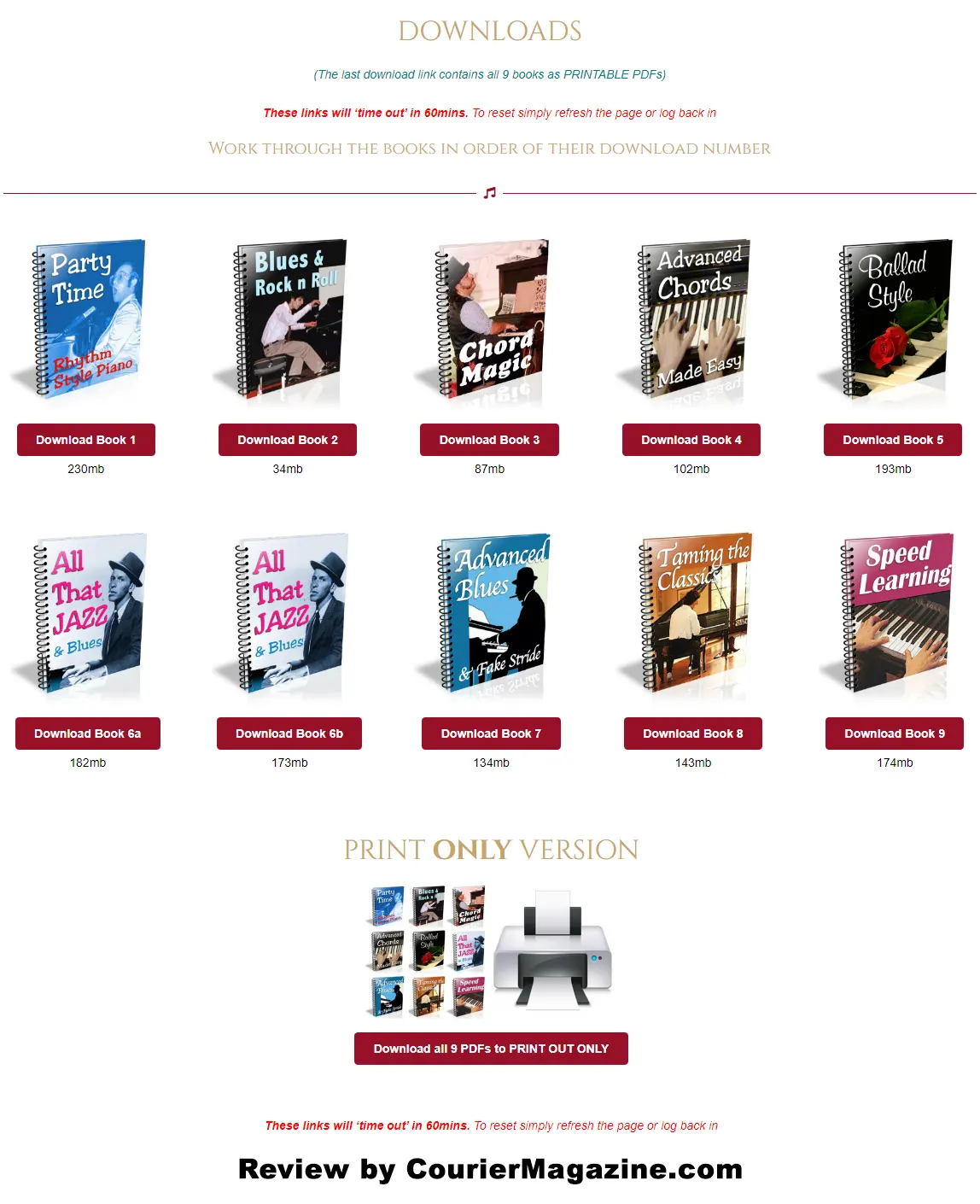 It's such a successful program that hundreds of thousands of people have used to learn how to play the piano. It's even supported by a 60 Day Money Back Guarantee, so you can try it out risk-free for two months.
Who Created PianoForAll?
The creator of PianoForAll is professional pianist, Robin Hall. Ryan spent several years teaching people how to play the piano, both in person and online. He is highly sought after due to his ability to make even the most complicated lessons fun and easy-to-understand.
Quick Overview of the PianoForAll Program
PianoForAll is a comprehensive, 10-manual program that brings the professional piano lessons to you. With this program, you receive hundreds of lessons that teach you the most basic steps to piano playing to the most advanced skills. With each lesson, you're guided along the way with step-by-step instructions, videos, audio files, pictures, diagrams, written descriptions and more. This makes it easy to understand the steps and put your newfound knowledge to the keys. All of the lessons are put together in a way that allows for enjoyable, gradual and fun progress with each one building the foundation and teaching the skills needed to go onto the next.
Whether you're a basic or aspiring pro, child or adult, or anyone in between, this program gives you the lessons needed to find your inner pianist and hone that skill.
To show you just how comprehensive the program is as a whole, here's a glimpse at what you can expect to learn from each of the manuals:
Book 1: Party Time/Play By Ear / Rhythm Piano (83 topics)
Getting to know the keyboard
The key to playing piano instantly – CHORDS
Practice progressions
Book 2: Blues and Rock n' Roll
Layout of notes for playing the Blues
Different types of keyboards
Photos of where to place your fingers
Written instructions on where to place your fingers
Book 3: Chord Magic
The all chords memory trick
Diagrams of playing different songs
Inversions
Easy way to form inversions
Common mistakes
Book 4: Advanced Chords Made Easy
One Magic Formula to 9, 11 and sus4 chords
Diminished chords
Right hand cluster chords
Practice progressions
Book 5: Ballad Style
Note finder print out
Developing a basic ballad style
Different exercises for ballad style
Book 6: Jazz Piano Made Easy Pt. 1 & Pt. 2
Two-part series
The magic blues scale
A classic chord progression
Voicing for show tunes
Book 7: Advanced Blues and Fake Stride
Instant transposer instructions + chart
Advanced blues music diagrams
Different riffs
Book 8: Taming the Classics
Getting to know the keyboard patterns
Repeats
Book 9: Speed Learning
Memorizing the scales and arpeggios
Practice routine in the key of C
Other tone scales
Book 10: Bumper Resource Book
Technicality of different keyboards
Features of different keyboard types
Connecting keyboards to the computer
You also receive a bonus, 200 video lessons and 500 audio lessons.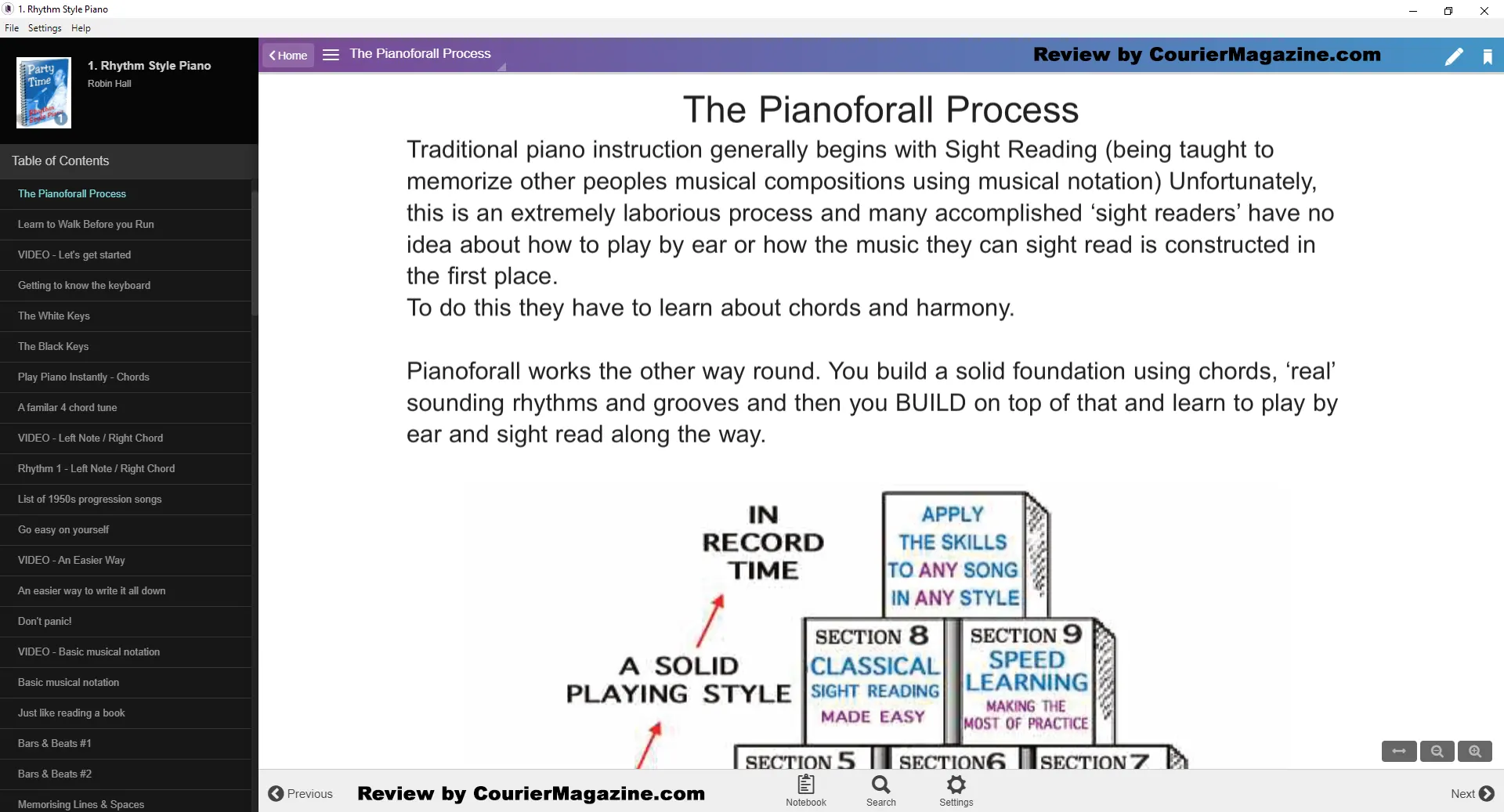 Our Opinion
Advantages of the Program
Being able to finally learn how to play the piano at an affordable cost and at my own pace is one of the best advantages to using PianoForAll. With this program, you get all the training that's provided in traditional in-person classes, only for a significantly less price and pressure. You can progress through the levels on your own time, in your home and at a pace that works for you.
The digital lessons make it easy to practice your skills anywhere, anytime and the different written, audio and video lessons make sure every training module is easy to understand.
With the 60 Day Money Back Guarantee, you can even give it a shot risk-free for two months and see if online piano lessons are for you.
Disadvantages of the Program
To learn the piano, you need to have something to play on. Although, you don't have to fork over a ton of money for a piano. Any type of keyboard will work, even if it's on your tablet. The lessons also have pictures of the keys, so you can practice your hand positions on paper if you print them out.
The only disadvantage of the program I could think of is what most first time self-learners will face – a lack of total guidance. Yes, there are videos and sound files to guide you, but sometimes you will have questions regarding a technique and you can't get an instant answer (you can email the author of the program, but it will definitely take some time to get an answer). Therefore, I had to search in Youtube or Google for quick answers. But do bear in mind that this is my own perspective as a slow learner with no musical background nor interest to learn the piano. In the end, I still did learn some interesting techniques and music theory. For such a price, it is still a relatively good program overall.
Conclusion
PianoForAll is a comprehensive program that brings the piano lessons to you in digital form. It's designed to help anyone learn or hone their piano skills, as it comes with detailed training that guides you through every step of the way – from beginner to advanced levels. You even get to try it out risk-free with the 60 Day Money Back Guarantee.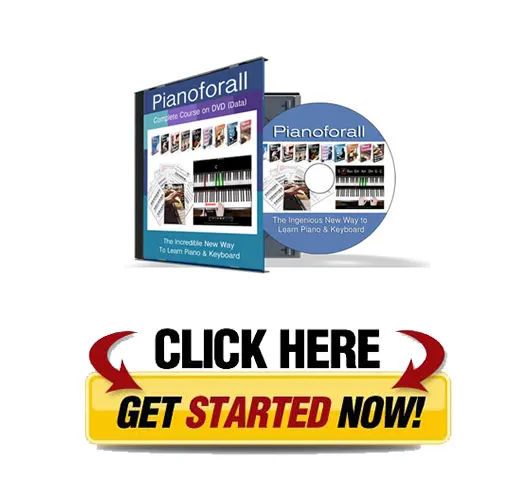 FAQs
Are the tutorials taught in eBooks or videos?
PianoForAll comes with written, audio and video files. To play the sound and video files, you will need a free software, which is provided to you with the program.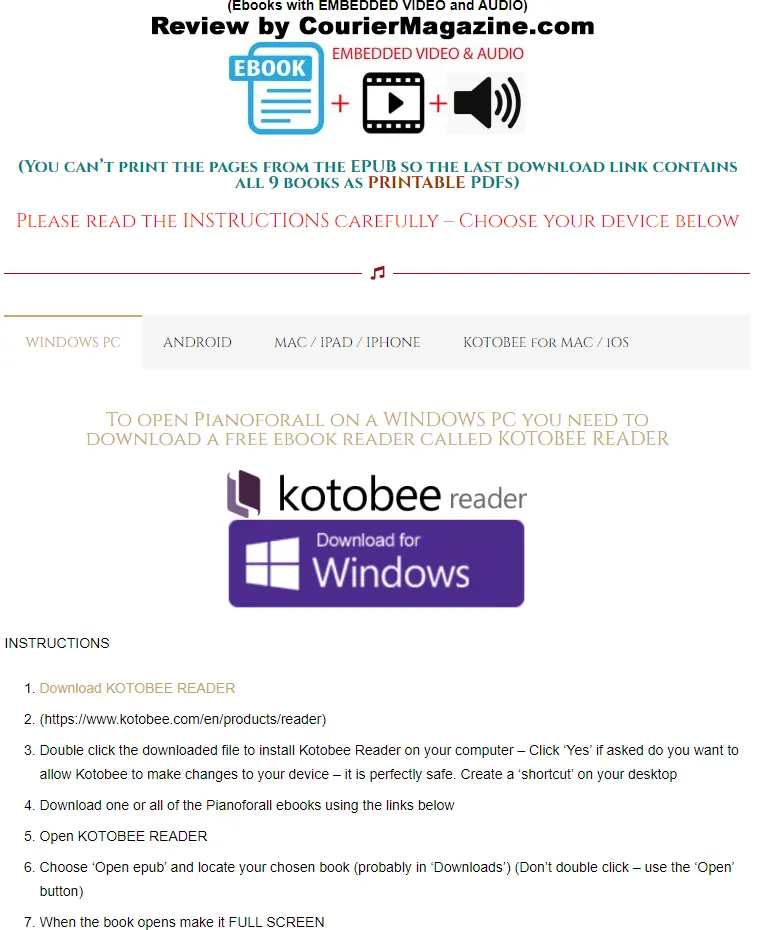 Can I print the materials?
The training manuals are digital eBooks with embedded videos and sound files. However, you are also provided with a printer-friendly version of the manuals without these files, so you can print and use as you please.
Do I need an active internet connection to view the materials every time?
Once you have downloaded the training manuals onto your tech device, you can access it at any time. No internet is needed.
Is it suitable for all ages?
The program was designed specifically for anyone to use – young and old. Children may need a bit of adult guidance to help them read some of the manuals. Otherwise, the videos and sound files make it easy for even little ones to learn on their own.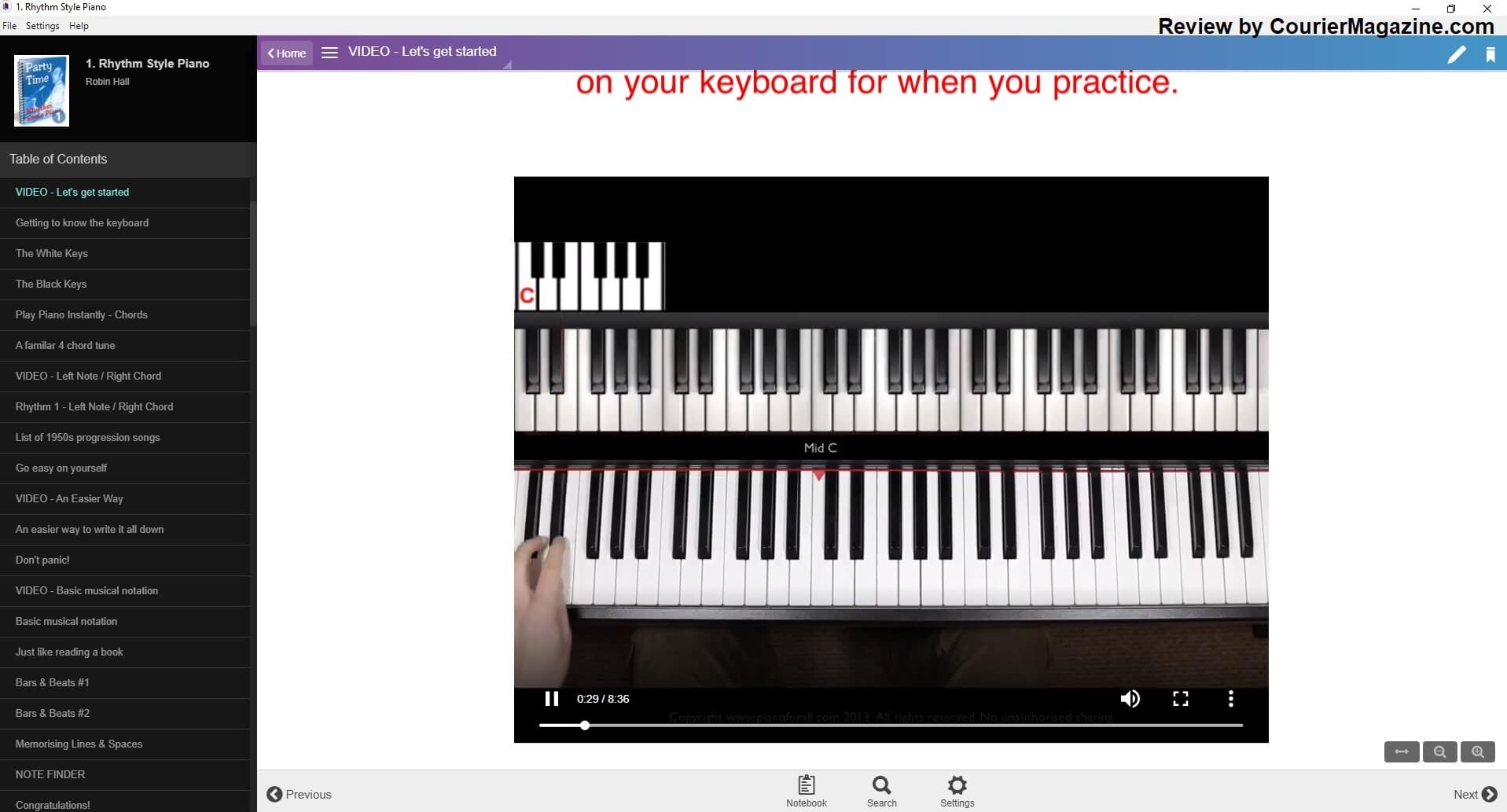 Is there an ongoing promotion or discount for the program?
At the moment, there isn't any ongoing promotion as the program is already majorly discounted compared to traditional in-person lessons. However, any extra features or promotions will get announced on their official website (click here to visit).