Ryan's Shed Plans is an online program that makes it easy for anyone to build their dream shed – or just a simple one – without requiring any pricey tools, prior experience or the expense of hiring a contractor. This comes as a huge sigh of relief if you've been looking into adding a shed on your property, as building a shed can cost thousands of dollars. With the average price ranging from $1,500 to $10,000, it often feels out of reach for many. But that's about to change.

What is Ryan's Shed Plans?
With Ryan's Shed Plans, you receive access to a vast collection of 12,000 shed plans that guide you through the entire building process – step-by-step through. Each plan comes with clear instructions, diagrams, material lists, and dimensions, making it easy for anyone to follow and build their ideal shed. Regardless of your experience or the tools you own, Ryan's Shed Plans ensure an easy, stress-free and budget-friendly option. Even the steps avoid using contractor jargon and instead, consist of terms and measurements that everyone can understand.
And yes, you really can build any shed you can dream of. Ryan's Shed Plans offers a diverse range of shed designs, from the most basic to the most extravagant. It's not just limited to traditional sheds either as the program also covers various exterior structures, including tool sheds, guest houses, she sheds, and luxury workshops. Here's a quick look at what comes with the program:
Most Popular Plans
220+ Woodworking Projects
Outdoor Shed Plans
Horse Barn Plans
Green House Plans
Shed and Garage Plans
Glue chart
Shed Base Guide
Shed Location Guide
Shed Roofing, Framing and Foundation Guide
Big Book of Tiny Homes
Essential Guide to Tools for a Complete Shop
Beginner Toolbox Guide to Starting Woodworking
A Basic Guide to Woodworking Tools
Home Improvement Guides
Best of all, the entire program is digital, providing you with instant access upon purchase, so there's no need to carry around physical blueprints when you're shopping for materials. You can download the content onto your smartphone, tablet, laptop, or desktop, giving you the freedom to build at your own pace and whatever location you choose. If you prefer a hardcopy, you can opt for the 1-DVD or 2-DVD Edition, with the latter also including bonus guides.
Additionally, you're provided with a 60-day money-back guarantee, which gives you ample time to explore the program fully and complete your shed project from start to finish and completely risk-free.
Who Created The Program?
The brain behind Ryan's Shed Plans is Ryan Henderson, a professional craftsman with many years of experience in woodworking. His expertise lies particularly in building sheds with a unique ability to simplify complex blueprints and woodworking processes, making his program accessible and easy to understand for people of all backgrounds and skill levels. This has also earned him the title of being "the master shed educator." Ryan's ability sets him apart,
Overview of the Program
Ryan's Shed Plans is the ultimate collection of shed designs and woodworking knowledge, making it the perfect guide for anyone looking to build, not only sheds, but many different types of exterior structures. The program comes with a wide variety of plans, ranging from the most popular shed styles to unique projects like tiny homes and horse barns.
You'll find more than just shed-building instructions too; the program also teaches you essential woodworking skills and tips for various other wood projects. It includes two bonus programs as well, which cover a vast array of wood items, including desks, bridges, bedrooms, benches, cabinets, cribs, playgrounds and much more.
Now, to ensure an easy experience that starts with finding the shed design you want to build, the program has separated the blueprints and information into different guides. To give you an idea of what you can expect from each, here is a more detailed look inside the different components:
Our Most Popular Plans
10 x 16 Rustic Schoolhouse Shed
10 x 10 Craftsman Shed
10 x 12 Cottage Shed
12 x 10 Rustic Yard Shed
9 x 9.5 Garden Shed
3 x 15 Garden Hutch
6 x 6 Compact Shed
10 x 14 All Purpose Shed
8 x 8 Simple Shed
16 x 24 Mini Bard
16 x 24 Gable Roof Shed
8 x 8 Gambrel Barn
10 x 12 Storage Shed
8 x 12 Kitchen Pavilion
8 x 10 Gabled Garden Shed
Firewood Garbage Shed
Greenhouses
Horse Barns
Garages
Tiny Homes
This portion of the program comes with the most sought-after shed designs that the majority of people opt for. It includes various exterior styles for many different purposes, including barns, sheds, pavilions, hutches and more. The dimensions of each design is clearly stated right in the name, so you can quickly narrow in on the ones that will work for your space. And once you've selected your shed, you even learn how to build things to put in it.
Main Project Files
220+ Woodworking Projects
More Woodworking Projects
Outdoor Shed Plans
Horse Barn Plans
Green Houses Plans
This part of the program provides you with all of the possibilities that go beyond traditional sheds. It comes with a diverse collection of woodworking plans, ranging from basic to more extravagant projects. For example, there's one section that comes with over 200 blueprints plan for building anything you want – from furniture to your very own guitar.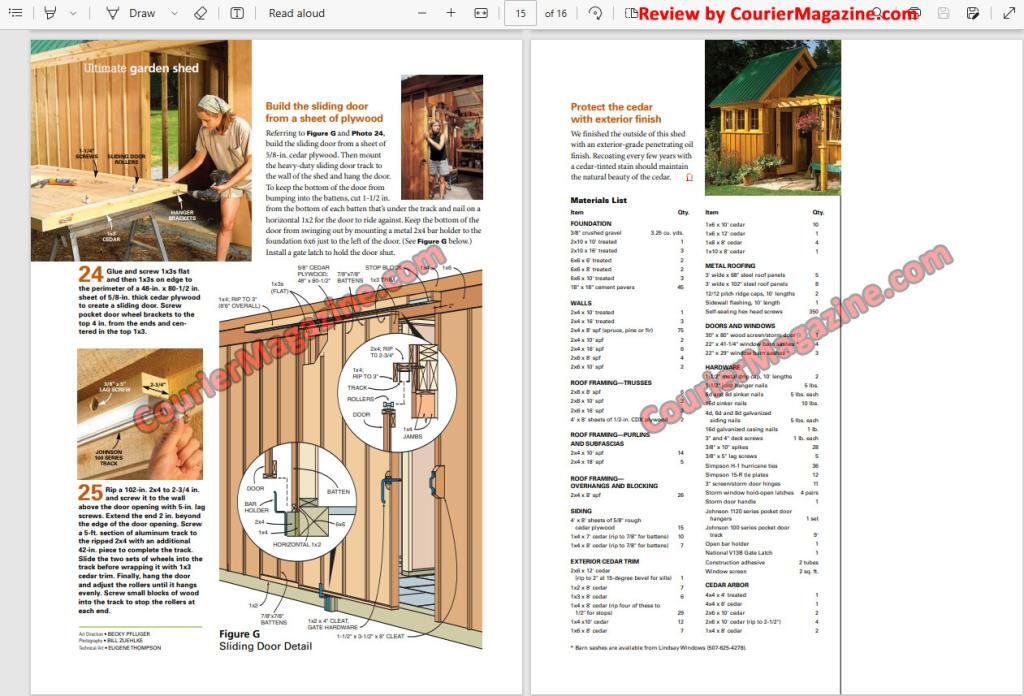 More Sheds and Garage Plans
Sheds and Garages Pack 1 – 5
Steps in Building Sheds
Gluechart
Shed Base Guide
Shed Location Guide
Shed Foundation Guide
Within this section, you receive an extensive collection of shed and garage plans, providing you with even more options to ensure you can find exactly what you're looking for. In addition to the plans, you'll find detailed guides that cover various aspects of the building process. For example, there are dedicated instructions for constructing the base, creating a solid foundation, and selecting the ideal location for your shed, all of which also come with in-depth tutorials.
You also receive valuable downloadable gluechart, which is a handy resource to assist you in your woodworking journey.
More Outdoor Plans
Beef Plans
Dairy Plans
Fairground and Community Plans
Fence and Cattle Guard Plans
Forage Storage and Feeding Plans
General Barn and Utility Shed Plans
Goat, Sheep and Rabbit Plans
Grain Handling and Feeding Plans
Greenhouse Plans
Horse Plans
Machinery and Supply Store Plans
Miscellaneous Plans
Poultry plans
Recreation Plans
Roof Framing and Truss Plans
Swine Plans
Tobacco Plans
Water Supply and Disposal Plans
As you can see from this list of examples, this portion of the program provides you with additional plans that you can use if you want to keep your woodworking going or have a unique purpose for your intended shed. Each section comes with a variety of different plan options, all of which are numbered and have a detailed description that take you immediately to the blueprint with just one click.
Shed Roofing, Framing and Ultimate Guide to Shed Foundations
Ultimate Guide to Shed Foundations
Beginners Guide to Shed Roof Framing
Roof Framing Fundamentals
How to Make Roof Trusses Like Pros
Rafter Triangle Made Easy
This section provides you with even more plans and knowledge about the roof, framing and foundation of your shed. You can take what you learn in this section and use it with the blueprint of your choice or keep it on the backburner for another project that pops up in the future. However, they are filled with incredible information and expert advice that is certainly worth looking at even if you don't plan on making any adjustments. For example, the first guide teaches you about positioning your shed properly.
Big Book of Tiny Homes
Introduction
What About The Bathroom?
Universal Design – Kitchen Storage
Hot Water in a Tiny House
Heating a Tiny Home
Building on Wheels
Tips on Financing a Tiny Home
The 'Planning' Phase
Couple Trying Out Tiny House Living
This guide is all about – you guessed it – tiny homes. It comes with detailed information about creating a tiny home with all the necessities you need, including water and heat and beyond. There are plenty of options taught to you for each part and you also receive examples and photos of all kinds of tiny homes – from a house on wheels to a family tiny home, a dome home and more.
Guide to Tools for Your Shop
Essential Guide to Tools for a Complete Shop
Beginner Toolbox for the Starting Woodworker
A Basic Guide to Woodworking Tools
If you're looking to continue on this woodworking journey, this guide provides you with important information about the tools you'll want to have. You receive inventory lists that come with detailed quantities, item descriptions, type of tool category, photos of the tools, unit cost, and a total cost to set up an entire shop, and much more.
More Woodworking Guides
More Woodworking Guides
Home Improvement materials
Wood Materials for Furniture
Just as the name reads, this section provides you with even more woodworking guides to use if you choose. They cover everything from the types of materials you'll need for any home improvements or furniture, tips for maintaining your woodworking masterpieces and much more.
Shed Designs and Drawings
If you're more of a visual person, you'll love this guide as it provides you with pictures of shed designs and the corresponding blueprints and drawings. You can click on one you like and instantly receive the files and guides to start building. It comes with all kinds of plans too – from saloons to sheds with a porch, garden houses, chalets – you name it.
Directory of Supplies and Wholesalers
Save yourself plenty of time and research with this section of the program, as it offers you a complete list of top suppliers and wholesales for all of the materials. This is particularly helpful if you plan on taking your new woodworking experience and turn it into a side hustle or even a full-blown business.
Bonus Downloads
Still haven't found what you are looking for or want to look at all of your options? This section comes with plans for everything you can imagine – barns, book cases, candles, bridges, bird feeders, you name it.
Free Bonuses
As mentioned, you also receive some extras for absolutely free:
Easy Simple Crafts Course
Home Woodworking Videos
The Verdict
Advantages of the Program
Access to over 12,000 shed designs and blueprints
Incredibly comprehensive collection of plans so you can explore an array of choices for your shed-building project.
Save a substantial amount of money by building your shed instead of hiring a professional contractor.
The program is designed for people of all skill levels and comes with simplified step-by-step instructions that even beginners can follow with ease.
Plans go beyond just traditional sheds, covering various exterior structures, including barns, pavilions, tiny homes, and more.
The plans are designed to be completed using basic tools commonly found in homeowners' toolboxes, eliminating the need for costly equipment.
Ability to request custom shed plans to fit your specific requirements and preferences if you don't find what you're looking for in the other 12,000 designs.
Comes with an abundance of guides that cover all types of woodworking projects.
Each plan includes detailed diagrams, material lists, and dimensions for a smooth and stress-free building process.
Receive access the program instantly upon purchase.
Digital download allows you to carry the guides on your smartphone, tablet, or laptop wherever you go.
Created by a professional carpentry who is highly sought after for his shed designs.
Supported by a 60 Day Money Back Guarantee.
Disadvantages of the Program
While you can opt to receive the program in DVD format, there is no book option available. However, considering how many guides the program comes with, this is actually much better. Instead of having to make room for all of the manuals provided to you, you can download the digital guides to your preferred tech device and use them as needed or print off the one you're working with.
Conclusion
Ryan's Shed Plans is the only program you'll ever need to build any shed, exterior structure or wood item. It is a comprehensive system that provides you with access to an extensive collection of shed designs, woodworking blueprints, tutorials, step-by-step DIY guides, expert advice and guidance, and so much more. If you can build it, you'll likely find it in this program and in a blueprint that is easy to understand and follow. Whether you're a woodworking enthusiast or a complete beginner, this program makes it easy to build the shed (or anything for that matter) of your dreams without breaking the bank. With the 60 Day Money Back Guarantee, you can even explore the collection of plans for yourself and find one that suits your needs.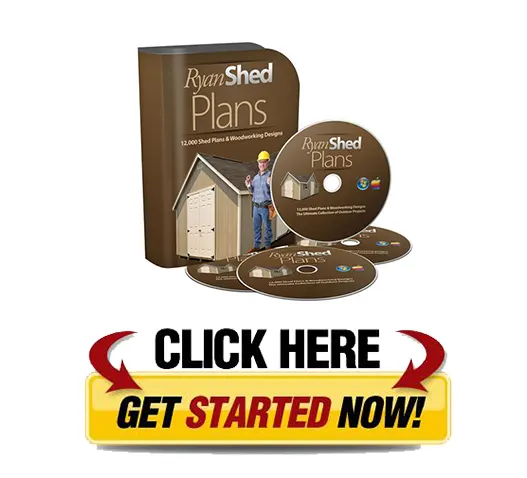 FAQs
Can I get a hardcopy of the program sent to me?
The program comes in digital format but you can also opt to receive all of the guides in DVD format. There are two options available with the first one coming with 1 DVD and the other option being 2-DVDs that also provides you with extra bonuses.
What are the measurements used in the schematics and plans?
The measurements are all in US standards. If you would like them in a different type, there are many websites and even free software that you can use to convert the plans.
Will I need specific woodworking tools?
Many of the plans are designed in a way that they can be completed with basic tools. There are, of course, different levels of shed designs and some may require more advanced tools.
Can beginners use this program?
Absolutely. The plans have all been designed so that anyone can use them, whether you're a beginner or a pro. The terms are simple. The tutorials come with step-by-step instructions and you also receive expert advice, guidance and visuals well throughout.
Can I build a custom shed with this program?
You can certainly use the incredible knowledge provided to you with this program to create a custom shed design. You can send a request to the author of this program as well to request a custom shed plan that suits your needs.