Mend The Marriage is an online program designed to help people strengthen their bond, reignite the flame and save their marriage, without having to pay for expensive couples therapy. The average cost of couples counselling is between $100 and $150 per hour, according to studies. Most situations require several sessions and the cost can increase depending on the type of treatment, length of sessions and therapist. Unfortunately, this is a high price to pay – period, let alone when you feel like your marriage is beyond saving. Plus, adding financial problems into the mix can make things worse. The good news is that you can get a similar experience right at home and for a fraction of the cost with this program. Mend the Marriage is a comprehensive system that brings expert advice, techniques and experience to help you and your partner become happier, more confident people in your relationship.

What is Mend The Marriage?
Marriages are hard. It's estimated that approximately 50% of all marriages in the United States end in divorce, according to studies. This is quite an alarming statistic since each of these marriages were once madly in love and excited to live their lives together. But how do you get back to that?
Mend The Marriage is a comprehensive program that's designed to help all types of marriages navigate and overcome any struggles, situations or crises they are experiencing. Created for both men and women, this program serves as the ultimate guide to stopping divorce and saving marriages. The focus is on strengthening your bond, reigniting that passionate flame that was once roaring and becoming a happier, more confident person as an individual and as a partner. So, if you've heard or said the words, "I'm not happy", "I don't love you any more", "I think I want a divorce", "I'm in love with someone else", or "I want a separation", this is for you. It is also designed for anyone who is already in the divorce proceedings but wanting to save the marriage, who is worried about their marriage deteriorating, who suspects their spouse of considering or having an affair or who thinks their spouse is losing interest.
With Mend The Marriage, you receive expert advice, techniques, activities, and recommendations that will help you overcome whatever marriage struggles you are facing. Whether you're dealing with infidelity or dishonest, a lack of passion or feelings of growing apart, an abusive situation, wanting more attention, a failing marriage with children involved or something else, the program uses an exclusive method, called "The ABCD System" to help, which stands for:
Accept the situation
Build resilience
Commit to change
Dedicate yourself to the task
The program also strives for you to draw upon and reinforce your inner quality to make your marriage work. All of this is separated into a four-phase process to ensure a gradual, thorough healing process that isn't overwhelming. The first two stages are preparatory, whereas the last two stages focus on taking action to mend and rebuild your relationship.
I'll delve into the details in just a moment. For now, here's a quick look at what the program comes with:
Main eBook (eBook and audio files)
Video Series
Audio Course
Free Bonus #1: Infidelity Survival Guide
Free Bonus #2: Children and Divorce
Free Bonus #3: Money Matters
Free Bonus #4: Team Building Worksheets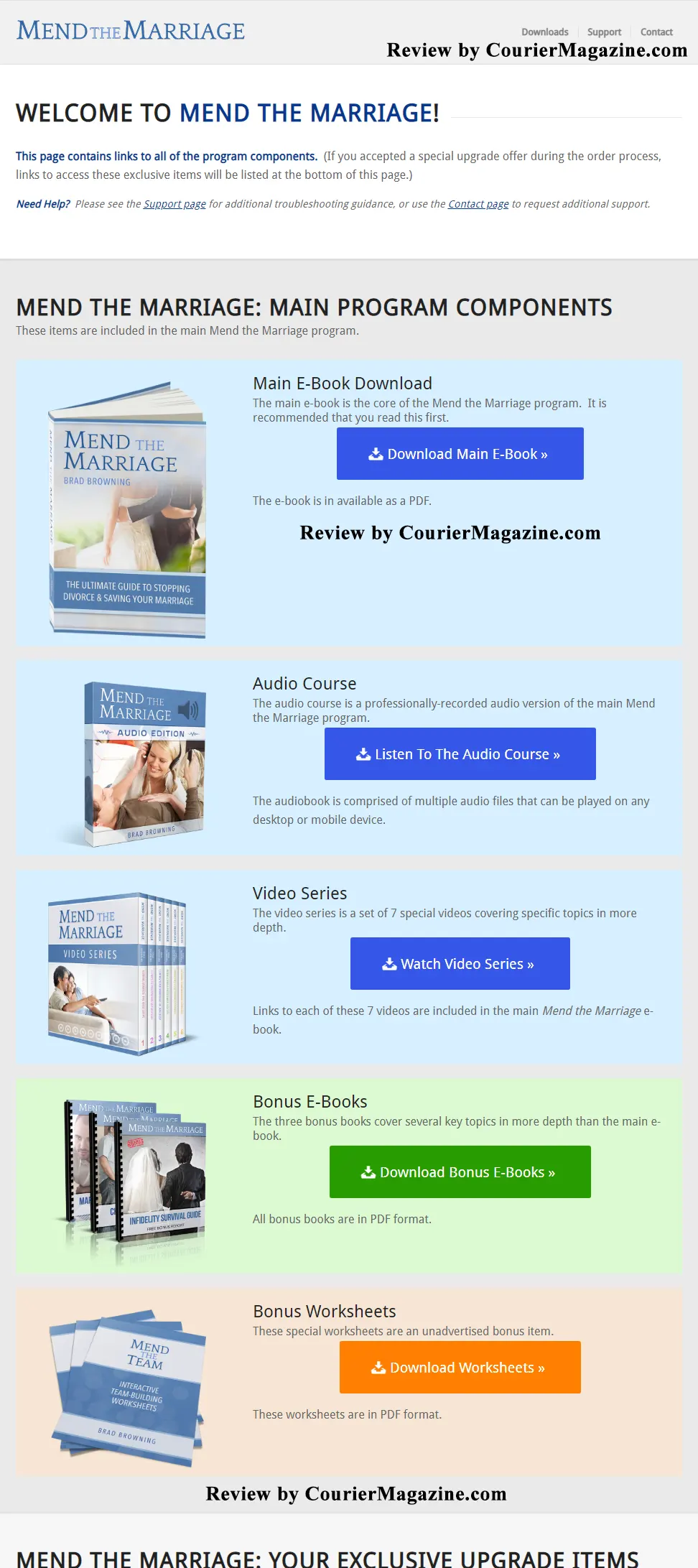 Everything is digital, so you don't have to worry about a package arriving in the mail that tells your neighbours about the problems you're experiencing or your kids finding it and being devastated by the sudden news. Instead, you can access the program online and download it onto your personal tech devices, such as your smartphone, tablet, laptop or desktop computer. This allows you to use the program at your leisure, anytime, anywhere. It also comes with a 60 Day Money Back Guarantee, allowing you to see what it's all about and start using the program for two months, risk-free. So, even if you think your marriage is beyond repair, you have nothing to lose by giving Mend The Marriage a try. It sure beats paying between $100 and $150 each week for marriage counseling.
Who Created the Mend The Marriage System?
The author of Mend The Marriage is Brad Browning, a professional relationship coach and divorce expert for over 10 years. Brad has worked with every type of couple and marriage you can imagine and has helped people overcome with all kinds of struggles and situations. Due to his success, Brad has created a variety of successful relationship and marriage programs in an effort to bring his experience to those in need across the globe.
Quick Overview of the Mend The Marriage System
Mend The Marriage is a comprehensive program that provides you with the expert relationship coaching and divorce expertise you're looking for. It's a unique program that uses an exclusive method designed to help all marriages overcome the struggles they're facing. The system starts with an abundance of quality information that helps you identify the areas of your marriage that are in need of repair. Then, it teaches you the steps needed to begin repairing your relationship by strengthening your bond and reigniting the flame. In addition to professional advice and techniques, the program also comes with fun worksheets that help you implement what you've learned into your life at home. You'll find step-by-step instructions where needed, different scenarios and situations, and much more to ensure a personalized experience.
Here's a better look at what you can expect:
Here's Where We Are
How Did We Get Here?
Where Can We Go from Here?
Doing It Alone
Accept the Situation
Inner Qualities That Will Help You to Accept the Situation
Build Resilience
Inner Qualities That Will Help You to Build Resilience
Three Stages of a Relationship
Family Systems Theory
Commit to Change
Take Care of Your Connection Account
Say It So You're Understood
Think It Through
Find Your Role
Assess Your Connection Account
Make Changes
Changing Your Mind
Managing Anger
Sex and Intimacy
Affairs and Infidelity
Mental Health and Addictions
Abuse
Children

Our Opinion
Advantages of the Program
The greatest advantage of using Mend The Marriage is being able to receive expert, professional advice, techniques and guidance for a fraction of the cost of traditional therapy. It's also really nice that you can do it in the comfort of your own home and at your own pace.
I really liked how the program discusses a variety of different scenarios, marriages and problems, so you can fine-tune in on what is most appropriate for your unique situation. It also helps you identify the issues you're dealing with, which helps calm a lot of your confusion, insecurities and anxieties.
Due to the nature of the program, being able to access it online or download it onto your personal tech devices is another benefit worth mentioning. It keeps your situation private (and away from your kids, nosey neighbours and intrusive in-laws, if you have them). It also makes it easy to use wherever you are.
What I'm also impressed is you'll have access to the video series section. The videos are also embedded in the eBook, and you're advised to watch them as you work through the eBook. The amount of content and value you're getting are truly remarkable.

Finally, the 60 Day Money Back Guarantee is another great advantage, as the last thing you want to do is spend money on something that doesn't work or address your specific struggles. This is ample time to see how the program can work for you specifically.
Disadvantages of the Program
In terms of disadvantages, there isn't anything that comes to mind for the program other than the fact that you have to be willing to put in some work. Some people just want their marriages to be fixed without actually fixing anything or without acknowledging their contribution to the situation, so having to put in a little bit of effort could certainly come off as a disadvantage to them. Other than that, there really isn't anything that comes to mind. The biggest disadvantage is that you have to use the program in the first place. After all, if you're here, you're experiencing difficulties in your marriage and that is a really tough place to be in. Fortunately, this program can help.
Conclusion
Mend The Marriage is a powerful program that will serve as a valuable resource to anyone experiencing difficulties or insecurities in their marriage. It's designed for both men and women from all types of marriages and addresses a variety of situations, scenarios and crises, so you can narrow in on the most appropriate advice for your specific marriage. The program comes with expert techniques, advice and worksheets, and you can try it out risk-free for two months with the 60 Day Money Back Guarantee.

FAQs
Is there a physical version of the program?
No, the program is completely digital. You can access it online or download the content onto your personal tech devices. If you really want a physical copy, you could always print off the PDF eBook at home. It also comes in an audiobook version if you'd prefer that option.
Does the program work if I'm the one at fault?
Yes, the program addresses a variety of situations, including whether you are the one at fault or the one trying to save the marriage. It also goes into the different types of problems and scenarios one may find themselves in, so that it is applicable for all cases.
Is the author of the program trustworthy?
Yes, the author of the program, Brad Browning, is a successful relationship coach who specializes in breakups, divorces, relationships and conflict resolution. He has a professional website you can check out for more information or you can do a quick search of his media appearances and contributions on YourTango, VICE Media, SelfGrowth.com, DatingAdvice.com, and many more.
Does the author offer personal advice or guidance?
The author's website has a contact page called "Seeking Brad's Advice", whether you can message him specifics and mention that you require personal advice.

Are there any other programs the author has created?
Yes, the author has created a variety of other successful relationship programs, such as "The Ex Factor Guide".