Over 40 Keto Solution is a scrumptious online keto plan designed for people over 40 who want to follow the keto approach, but who also want to get proper, age-appropriate nutrition in. As you get older, you realize how much your mind and body rely on proper nutrients to get you through the day. You also probably don't want to give up all of your carbs either (who does?). You've gone back and forth between whether or not you should try the keto diet. Maybe you've already started and feel bleh from the major diet shift. While there's no denying many people have found success with the keto diet, it isn't for everyone… Especially those over the age of 40. New research found that the traditional version of the super-low-carb ketogenic diet can produce potentially dangerous side effects, especially for people over 40. However, that doesn't mean you can't go keto or are out of options. Over 40 Keto Solution is keto-with-a-twist. It's created with the nutritional needs of the aging body factored in and it focuses on carb cycling instead of carb elimination. Yes, that means that you don't have to eliminate your favorite carby-treats and foods.  The program even comes with everything you need to start your new journey, sans the actual food, of course.
What is Over 40 Keto Solution?
Keto has proven time and time again to be an effective way to boost your health and to lose weight. However, researchers have found that the "completely normal" keto flu symptoms people often report experiencing, can be potentially dangerous for men and women over 40. This is because your nutritional needs are an imperative component as you age, and the traditional keto diet doesn't necessarily cater to this. But that doesn't mean you can't go keto either.
Over 40 Keto Solution is an online keto diet plan – with a twist. With this program, you learn how to follow the ketogenic guidelines in a way that is appropriate for your health once you reach 40. It's a comprehensive system that's been designed for men and women in their 40s, 50s, and 60s who want to use keto to reach their health and weight goals. However, unlike the traditional keto diet, this one has factored in age-appropriate nutritional needs. So, there are some not-entirely-keto rules you'll be following. For example, the traditional keto diet is all about carb-elimination (eliminating 95% of carbs, to be exact). And yes, this also includes eliminating juicy summer berries and other healthy items that are packed with nutrients. Many have deemed this to not be ideal or practical. Some even say it isn't healthy.
With Over 40 Keto Solution, you don't have to completely eliminate the carby foods you love. Instead, the focus is more on carb-cycling instead of complete elimination. Immediately, this offers a more practical and sustainable approach, as you don't have to deprive yourself of the flavours you love. Also, since you won't be doing a total carb elimination, you also don't get the potentially dangerous keto flu systems researchers have started to warn people over 40 about. So, the program isn't 100% strict traditional keto. Rather, it's keto-with-an-age-friendly-twist. This means you get the benefits you want from your diet, and that align with your health and weight loss goals.
Now, for those of you that don't know, carb cycling is when you alternate between high-carb days and low-carb days. Some plans also add in no-carb days. The Over 40 Keto Solution teaches you the proper way to carb cycle on a keto-friendly(ish) diet. It comes with a ton of great information that teaches you about the regime and the reasons why it's most beneficial for you. It also gives you all kinds of delicious recipes, meal plans, checklists, cheat sheets, food lists, and so much more. All of this can be found in the different guides that come with the program:
7 Day Keto Carb-Cycling Blueprint
Plateau Buster Meal Plan
Kitchener Pre and Restaurant Cheat Sheets
Keto Solution Quick Start Checklist
Belly Bloat Elimination Tricks
Free Bonus: Free Live 7-day Fat Burning Coaching Session
All of this is available to you as soon as you purchase. You can access it online using your web browser or you can download the guides right onto your personal tech device. It's also backed by a 60 Day Money Back Guarantee. So, you really have nothing to lose by giving it a try, especially since this regime won't produce those horrible keto flu symptoms.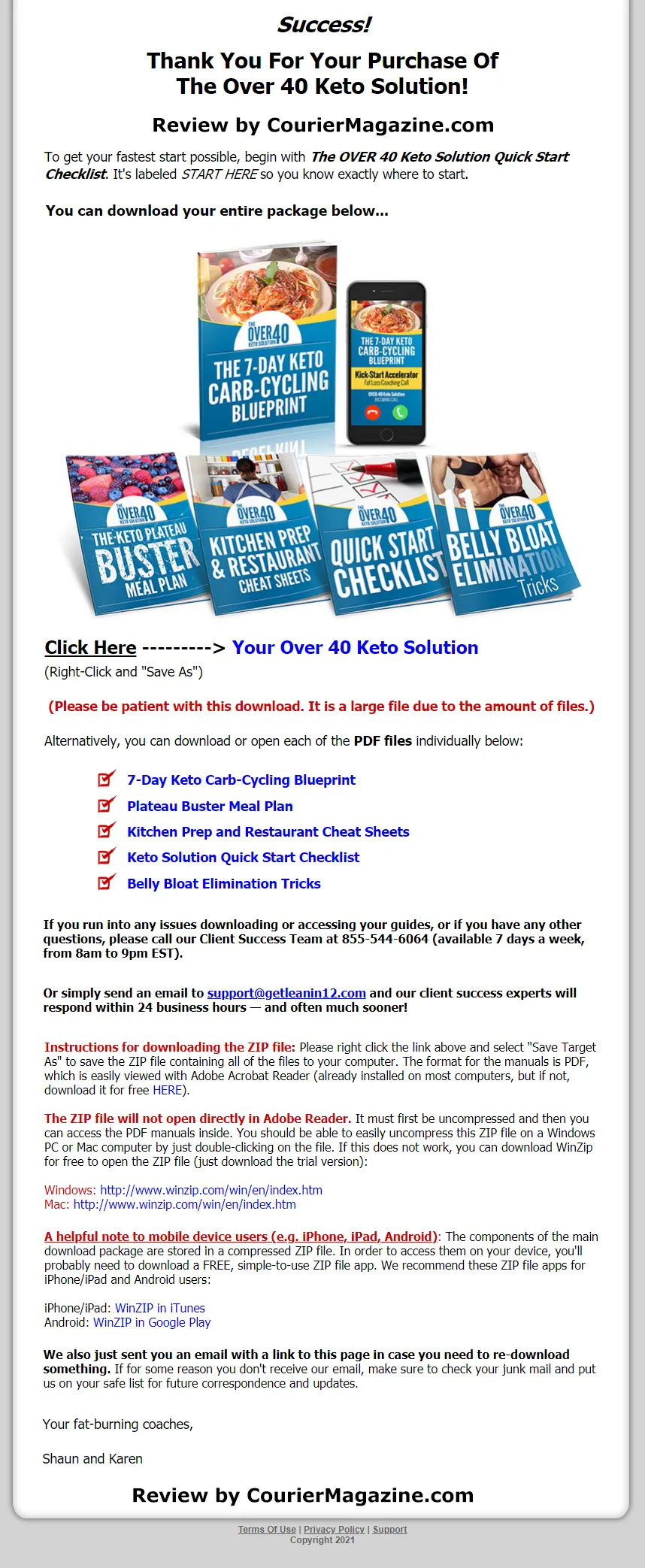 Who Created Over 40 Keto Solution?
The creators of Over 40 Keto Solution are a health and fitness duo who are 4-time best-selling nutrition authors, certified exercise technologists and winners of the Body For Life 1st Runner-Up Grand Championship. Shaun and Karen Hadsall are highly recognized in the health and fitness industries for producing powerful yet practical approaches for people over 40.
Quick Overview of Over 40 Keto Solution
Over 40 Keto Solution is an age-friendly keto-friendly(ish) program designed specifically for men and women over 40. With this program, you learn how to harness the benefits of going keto, while also ensuring your diet meets your traditional needs as you age.
The program is separated into different guides to allow for easy, organized reading. This also helps you narrow in on specific topics as needed, and since the program is digital, that can be anywhere, anytime. In these guides, you learn everything from the basics to the carb-cycling burn. This also includes step-by-step instructions, yummy recipes, easy-to-understand ingredient lists, meal timing templates, strategic carb-cycling meal plans, food pairing guides, grocery lists and so much more.
Here's a closer look:
7 Day Keto Carb-Cycling Blueprint

3 Fat Burning Rules
Fat Burning Strategies
Pairing and Combining Your Meals
Food Combination to Avoid
7-Day Calendar/Action Plan
Daily Meal Plan Overview
Meal Plan Sample
Carb Cycling Guidelines
Intermittent Fasting Guidelines
Meal Timing Templates
Intermittent Fasting Benefits
Ketone-Producing Breakfast Snacks
Grocery List
Food Swaps
Serving Sizes and Macronutrient Guidelines

Raw Nuts and Seeds
Dairy Fats
Fat and Protein Snacks
Proteins
Meat, Pork and Poultry (Protein and Fat)
Dairy Protein Choices
Wild Caught Fatty Fish and Seafood
Protein Powder
Vegetables
Carb Requirements and Serving Sizes
Starch
Fruit Requirements and Serving Sizes
Fruit

Other Foods to Avoid
Understanding the Importance of Including All Macronutrients For Long Term Metabolic Health and Longevity
Friendly Fats
Benefits of Eating Portion Volumizing Friendly Fats
3 Types of Friendly Fats that Burn Fat
Benefits of High Protein Diets
Carbohydrates
Benefits of Strategic Carb Intake
Negative Side Effects of Cutting Carbs
Best Carb Practices
A Crash Course on How People Over 40 Should Consume Carbs for Hormone Optimization and Faster Fat Loss
How and Why Carbs Can Make You Fat
How Carbs Can Keep You Lean 365 Days of the Year
Carbohydrates Usage and Storage Stages
Carbs – Pros
3 Tricks You Can Use to Eat Lots of Carbs and Never Store Them As Fat

Plateau Buster Meal Plan

Why Grapefruit?
The Setup
Grapefruit Deplete Day
Carb-Up Day
Ketone Accelerator Day
Cheat Day
Food Substitutions and Guidelines
Meal Plan Overview
Meal Plan
Success Tracker and Food Journal
Intermittent Fasting Hot Sheet
How to Harness The Power of Intermittent Fasting
How to Skip breakfast for Faster Fat Loss
How Intermittent Fasting Gives You Control Over Your Hunger Hormones
FAQ
Our Opinion
Advantages of the Program
First things first, can you go wrong with learning how to keto specifically based on the nutrients your body needs? Absolutely not, so this is one of the top benefits. You get to go keto but you don't have to deal with all the keto flu symptoms and complete carb elimination either. Two major advantages!
I also liked how the materials could easily be accessed online or downloaded right onto your laptop, smartphone or tablet. And the money back guarantee is always a nice boost of reassurance. You can try the system out and eat up all the recipes, and then decide if it's for you.
Disadvantages of the Program
Well, when I thought about this, my mind drew a blank. There isn't anything that stands out in terms of disadvantages. But if I had to pick something, it would be to add audio file downloads because some people would rather listen and learn.
Conclusion
Over 40 Keto Solution is an online keto-friendly(ish) program that takes the good stuff from the traditional keto diet and leaves the bad stuff (and the keto flu symptoms) behind. Created specifically for people over 40, this program teaches you how to keto with carb cycling, stead of complete carb elimination to ensure your nutritional needs are met. This also means you can still enjoy some carbs. It is also supported by a 60 Day Money Back Guarantee, so you can try it out and see how the program makes you look and feel!

FAQs
Does the program come in a physical version?
The program is 100% digital and is made up of PDF guides that can be accessed online or downloaded. However, if you do prefer a hardcopy, you could always print these guides off at home or in a print shop.
Is the program safe?
Keto has been deemed to be a safe style of eating and since this program is largely inspired by the keto diet, it should certainly be safe for everyone to use. However, as with any diet change, you should speak with your health practitioner first if you have any concerns.
What separates this program from the other keto programs?
Two words: carb cycling. Unlike traditional keto plans that focus on eliminating 95% of all carbs from your diet, this one focuses on carb-cycling instead. It's also created with age in mind, which is important since it's reported that traditional keto causes a hormonal decline for people over 40.
Does the program involve taking supplements or exotic herbs?
Nope.
Is there a discount?
Currently, no discounts have been offered for this program. IF that was to change, it would be announced on the official website.
How can I contact the author if I have an issue or a question regarding the program?
You're provided with access to the program's Client Success Team, where you can contact them via email or phone.