The Smoothie Diet is the ultimate program for learning how to boost your health and weight loss with delicious smoothie and juice recipes that provide you with high-quality ingredients that are packed with all the goodness you need and none of the unwanted sugar and additives. While there have been many discussions as to whether or not smoothies are good for your health and weight loss, many health experts agree that as long as you are creating your smoothies at home, using high-quality, whole foods and no added sugar, they can be a game-changer for your health and weight loss journey. The secret is to not be fooled into buying those pre-made versions claiming to be healthy.  
With The Smoothie Diet, you receive all the tools you need to create nutrient-packed smoothies bursting with essential vitamins and minerals that align with your goals. You also receive expert smoothie strategies and a mouthwatering collection of recipes, advice from certified health and nutrition coaches, grocery shopping lists, printable recipe cards, a daily journal to track your progress, a workout plan, a helpful healthy eating guide and so much more so you can embark on a healthy, fat-burning 5-week plan with ease.

What is The Smoothie Diet?
Not all smoothies are created equal, but with the right ones and a well-crafted strategy, you can harness the incredible health and weight loss benefits of these delicious drinks, one sip at a time. The Smoothie Diet is an online program that teaches you how to use smoothies in the healthiest, easiest, and most delicious way possible and of course, in a way that supports your health and weight loss goals. It's a comprehensive program packed with nutritional advice and expert coaching and extra tools that empower you to maximize the benefits of your smoothies.
The Smoothie Diet is highly focused on the importance of making your own smoothies at home using wholesome ingredients. By using high-quality, whole foods and avoiding sugar and additives commonly found in store-bought options, you can maximize the nutritional benefits of your smoothies. The program provides you with valuable insights into why this approach is crucial for achieving success with your smoothies, the wide range of benefits you can expect, and the specific ingredients you'll want to add into your blender to help you reach your goals.
Everything is laid out in a easy-to-follow 5-week smoothie strategy. Each day of the week is carefully planned out for you with different recipes, making it easy for you to learn and implement the different steps, or rather, sips. You'll also receive pre-made grocery shopping lists and printable recipe cards, as well as optional resources such as a workout plan, journal prompts to keep you motivated, and specialized recipe guides for diabetes-friendly, gluten-free, and kid-friendly options. Put all of this together and The Smoothie Diet offers a comprehensive approach that ensures that you have all the tools and guidance you need to succeed on your smoothie journey and improve your overall health.
Here's a sneak peek:
Main Guide
Smoothie Schedule
Shopping Lists
Recipe Cards
Daily Journal
Healthy Eating Guide
Workout Plan
Smoothie Recipes
Diabetes-Friendly Smoothie Recipes
Gluten-Free Smoothie Recipes
Smoothies for Kids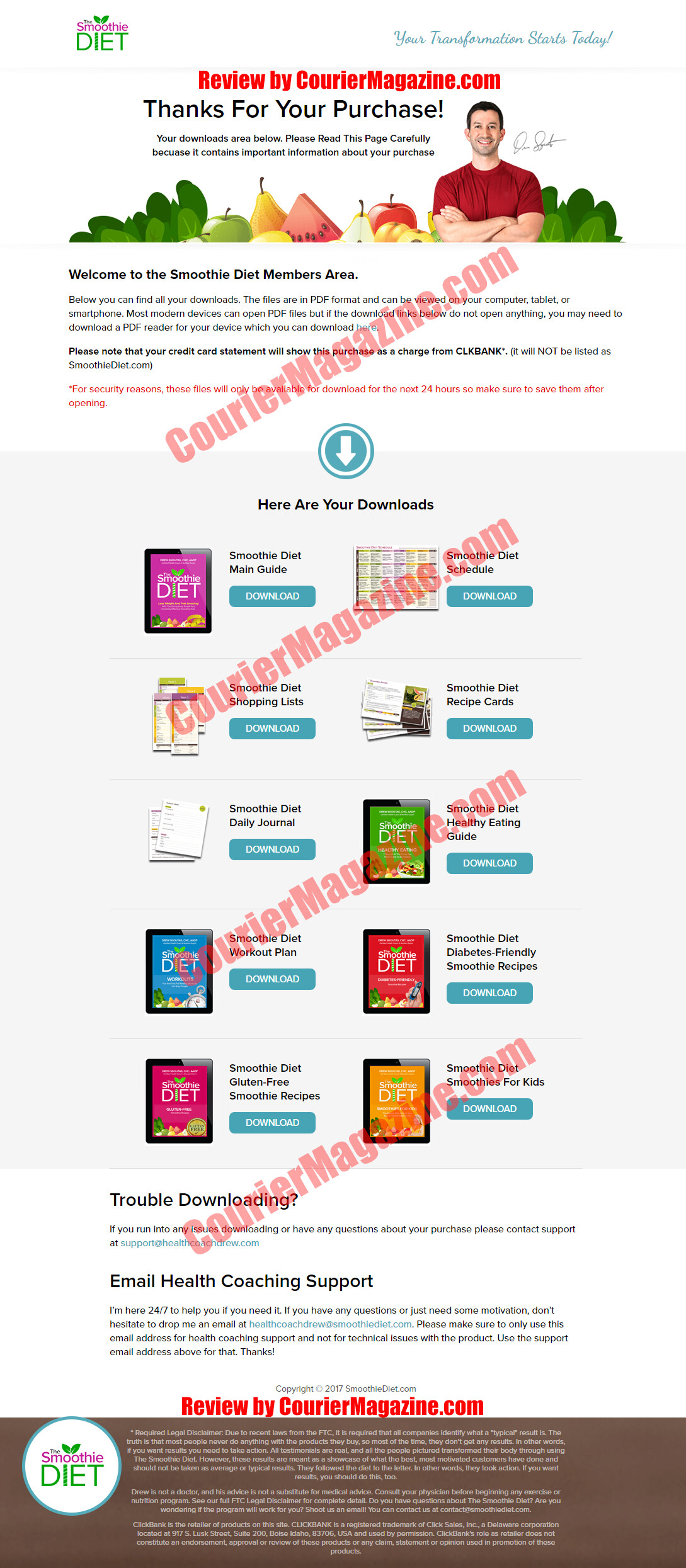 The entire program is digital, allowing you to download the content right onto your smartphone, tablet, laptop or desktop computer for easy access anytime, anywhere. It's even supported by a 60-Day Money Back Guarantee so you can sip away risk-free for two months and see how it improves your health and weight.
Who Created The Program?
Drew Sgoutas, the author of The Smoothie Diet, is a highly respected nutritional expert and certified health coach. His unique approach focuses on personalized nutritional counseling that is centered around the importance of incorporating whole fruits, vegetables, and high-quality ingredients to create smoothies that are not only nutritious but also delicious, offering a practical and delicious approach that anyone can use.
Overview of The Program
The Smoothie Diet is your ultimate guide to learning how to use smoothies the right way to achieve your health and weight loss goals. The program includes a comprehensive main manual that covers everything you need to know about the program, including the approach, what to expect, and the transformative power of smoothies and their ingredients in your diet and nutrition. It includes professional advice from a certified health coach and nutrition coach that provides you with expert guidance throughout your journey.
The program also includes a 5-week smoothie plan with new recipes to try each day, so you can easily follow along for optimal results. As a bonus, you'll receive additional guides to enhance your smoothie strategy, providing you with extra knowledge, guidance, support, and ultimately, success in your health and wellness journey.
Here's a more detailed look at each component:
Main Guide
Fat Burning 101

A Glimpse at the US Health Crisis
The Main Culprits Behind the Obesity Pandemic
Super-Sized Portions
The Standard American Diet
You Don't Fail Your Diets: Your Diets Fail You
Dietary Fat – Friend or Foe?
The Smoothie Diet vs. Other Smoothie Type Diets
Plant Power
Understanding Superfoods
This Recipe vs. Other Diets
Outlines of the Program
Don't Forget: Be Active Every Day

Smoothie Basics

How to Choose a Blender
Where to Buy Your Blender
Choosing The Best Vegetables and Fruits
Storing Fruits and Vegetables
Smoothie Making Tips and Tricks
Making Smoothies
Storing Smoothies
What If I Can't Find The Ingredients?
Some Side Effects You May or May Not Experience

What To Eat

Solid Food Meal Recommendations
Foods You Can Have
Foods You Cannot Have (Except on Cheat Day)
Example Meals
Healthy Snacks
The Cheat Day

The Main Program

Week 1: The Smoothie Revolution
Week 2: Feel The Green
Week 3: Introducing Metabolic Boosters
Week 4: Unleashing the Healing Power of Smoothies
Week 5: And Beyond

FAQ
Conclusion
Smoothie Recipes
The main manual serves as your ultimate guide to the program. It's packed with valuable information and a wealth of nutritional advice and coaching to support your journey. This includes valuable information about fat-burning superfoods, tips for choosing the right kind of blender, how to properly store your smoothies for later enjoyment, and so much more. It also breaks down the 5-week strategy to ensure you have a thorough understanding of how the program works and how you can maximize your experience for optimal results.

Smoothie Schedule
5 Week Program for 7 Days a Week (Sunday's a cheat day)
The 5-week smoothie schedule is a carefully curated plan that provides you with a variety of smoothies to enjoy throughout the week. Each day assigns a specific smoothie for a particular meal, ensuring a balanced and delicious experience that keeps your taste buds excited. By the end of week four, you will have tried all of the recipes, giving you the freedom to select your favorite smoothies for week five. This flexible approach allows you to personalize your smoothie choices and continue enjoying the ones you love the most.
Shopping Lists
How to Navigate a Grocery Store
Shopping Lists for Each Week of the Program
This section includes pre-made grocery shopping lists for all of the 5 weeks in the program. These lists are designed to make your shopping experience super easy and stress-free, while also ensuring you have all the necessary ingredients for the smoothie schedule provided. The lists are organized by week, with the quantities and categories of ingredients needed, and come with some helpful tips to enhance your shopping trip.
Recipe Cards
Printable Recipe Cards for each Recipe
In this section, you will find printable recipe cards for all the delicious smoothie recipes included in the program. Each recipe card features a photo, serving sizes, nutritional information, and clear, step-by-step instructions. To make it even more convenient, the recipe cards are labeled with the corresponding week and meal from the smoothie schedule, so you don't have to constantly refer back to the main manual.
Daily Journal
Journal for Each Week
Mood, Energy, Digestion, Cravings Tracker
Mind, Exercise Tracker
This program includes journal prompts that are designed to help you track and reflect on your progress and your overall wellbeing, such as your mood, energy levels, digestion, cravings, mindset, and exercise. The journal prompts can also be printed for convenient use.
Healthy Eating Guide
Chapter 1: Introduction
Chapter 2: Healthy Eating Basics
Chapter 3: Healthy Eating Tips + 7 Meal Plans
This guide provides additional nutritional advice and guidance to support your journey beyond the 5-week smoothie plan. It offers helpful tips for transitioning back to a healthy diet while ensuring that you maintain the results you have already achieved. It also includes a comprehensive 7-day meal plan that covers all meals of the day that you are free to try (and that support your health and weight loss journey).

Workout Plan
Fast Fat Blasting Workouts for Busy People
Introduction
Beginner Workouts
Intermediate Workouts
Advanced Workouts
This optional guide can be used to enhance the benefits of the smoothie program by incorporating exercise into your routine. It offers some quick and effective workouts tailored for different fitness levels, including 5-minute, 10-minute, 15-minute, and 20-minute options to ensure a regime for you, whether you're at a beginner, intermediate, or advanced level.

Diabetes-Friendly Smoothies
42 Diabetes-Friendly Smoothies
In this bonus guide, you receive a collection of 42 smoothie recipes that are specifically designed to be diabetes-friendly, so you can enjoy smoothies that support your nutritional needs and manage your diabetes at the same time. It also comes with extra advice and tips on how to effectively manage diabetes using food.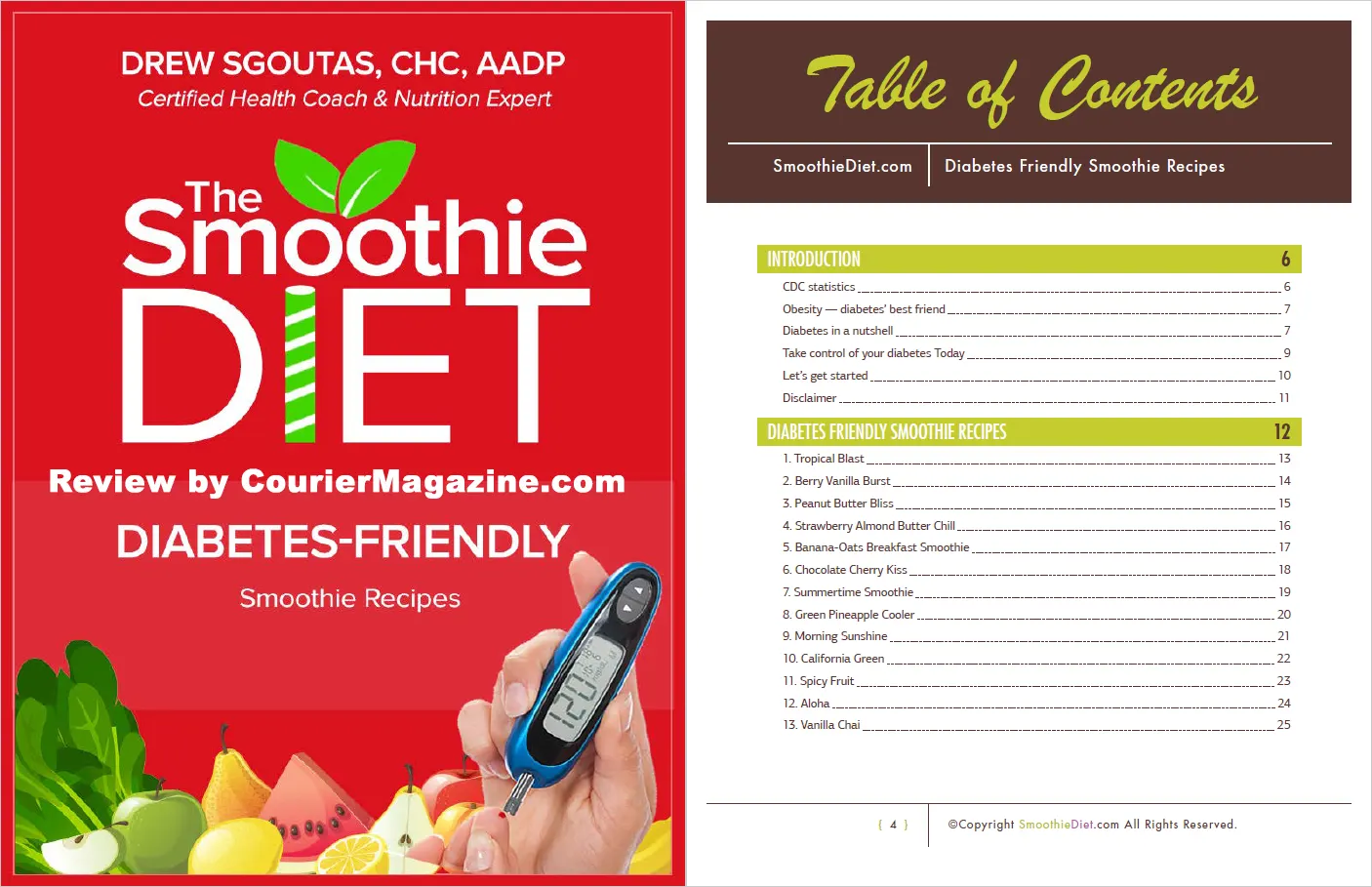 Gluten-Free Smoothies
In this bonus guide, you receive a collection of 42 smoothie recipes that are completely gluten-free. It also comes with some extra tips about managing celiac disease, and how meeting your daily nutritional goals can help.  

Smoothies for Kids
Introduction
Eating Healthy Early in Life
The Power Lies in You
Breakfast Skipping – An Absolute No-No
Boost Your Child's Nutritional Intake with Smoothies
A More Effective Way to Classifying Foods
Conclusion
5 Fruit Smoothies
5 Green Smoothies
In this bonus guide, you receive a variety of kid-friendly smoothie recipes that are both tasty and packed with nutrition. These recipes appeal to children's taste buds while providing essential vitamins and minerals. It also comes with helpful tips and strategies to get your kids excited about healthy eating, developing good eating habits from an early age, and ways to enhance your child's overall nutrition.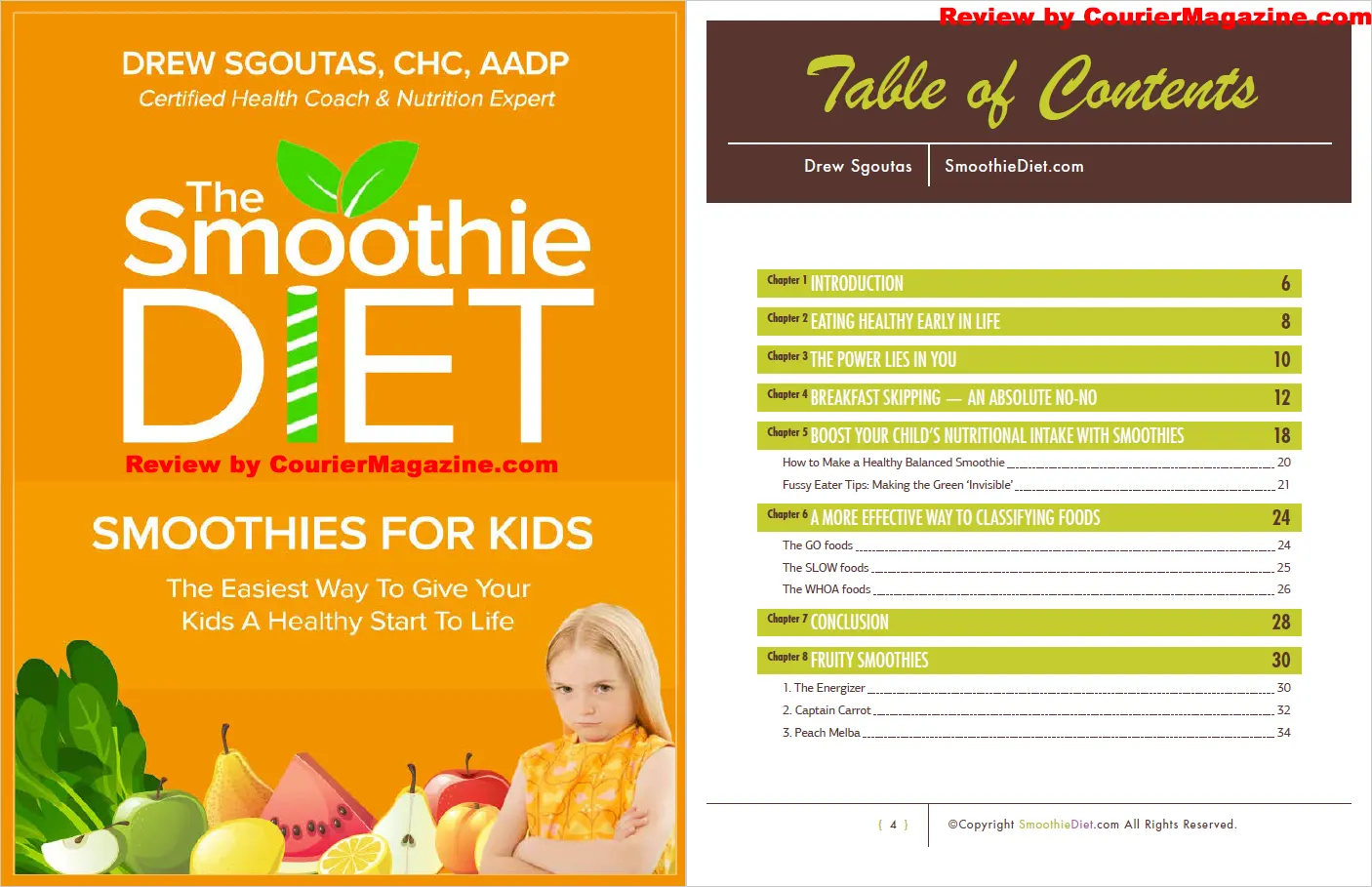 Video Tour
The Verdict
Advantages of the Program
The smoothie recipes are made using 100% natural ingredients and zero artificial additives or sugars.
The approach is highly focused on sourcing high-quality, whole foods to eliminate toxins, preservatives, and additives from your smoothies.
The smoothies are designed to support your health and weight loss goals.
Comes with expert advice from a certified health coach and nutrition coach.
You receive extra tools, such as pre-made grocery shopping lists, printable recipe cards, daily journals, a healthy eating guide, and a workout plan to support your progress.
Bonus guides offer additional information, advice, and recipes to enhance your experience.
Comes with guides that cater to kids, gluten-free diets, and diabetes-friendly options.
The program is available in digital format and can be downloaded right onto your personal devices.
Backed by a 60-Day Money Back Guarantee.
Disadvantages of the Program
If you don't generally like smoothies, The Smoothie Diet may not sound appealing to you. However, this program provides you with a wide range of recipes that offer diverse flavors, textures, and ingredients to ensure there's something for everyone. It also comes with a 60 Day Money Back Guarantee, so you can take a taste test for yourself.
Conclusion
The Smoothie Diet is the ultimate program for discovering the perfect smoothies to enhance your health and accelerate your weight loss journey without sacrificing your desire for some deliciousness! It teaches you how to use high-quality ingredients and whole fruits and vegetables to get all of the nutrition you need, while also helping you avoid the sugary and additive-filled options commonly found in stores. You don't need any fancy equipment either, just a good blender, and you're ready to start sipping your way to better health and weight. The program also comes with recipes for the whole family and those who are looking for diabetes or gluten-free options. You also receive valuable knowledge about nutrition, a healthy eating guide, a workout plan, daily journals, recipe cards, and a money back guarantee so you can try it all out, risk-free.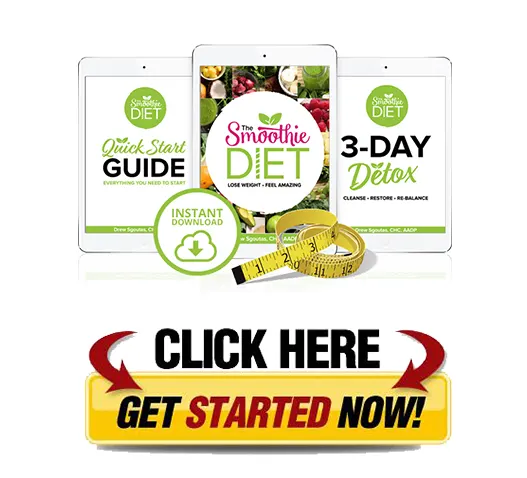 FAQs
Are the recipes safe to use?
Absolutely! The program focuses on using wholesome, nutrient-packed whole foods, which makes it a safe choice. It's all about nourishing your body with the goodness it needs. However, if you have any allergies you will want to keep an eye out for those ingredients so you can avoid them and make substitutions as needed.
Is there anything else to take note of, such as potential side effects?
It's important to note that if your current diet lacks fiber and you suddenly increase your intake through the program, you may experience temporary side effects such as stomach discomfort, diarrhea, or other symptoms associated with increased fiber intake. However, these effects shouldn't last very long and will subside as your body adjusts to the new dietary changes. This is an entirely natural response as your body adapts to receiving the essential nutrients it isn't used to receiving.
Can the program be used by a diabetic?
If you're a diabetic, the program has you covered with a separate manual complete with diabetes-friendly recipes.
Are there any recipes that are gluten-free?
Absolutely. The program also come with a separate manual that comes with a collection of delicious, gluten-free recipes.
Can the smoothies be enjoyed by kids?
Yes. There is also a separate guide that comes with a collection of recipes designed to be appetizing to kids while also sneaking in essential vitamins and minerals.